Ozon is one of the first eCommerce players in Russia. It was founded in 1998 as an online bookstore. It quickly expanded to sell CDs, DVDs, clothing and electronics. It now offers more than 9m products across 24 product categories. It also runs an online travel agency and holds a stake in Litres, Russia's largest digital books platform.
Ozon is one of Russia's leading multi-category eCommerce platform: its Gross Merchandise Value (GMV) expanded 152% in 1H 2020.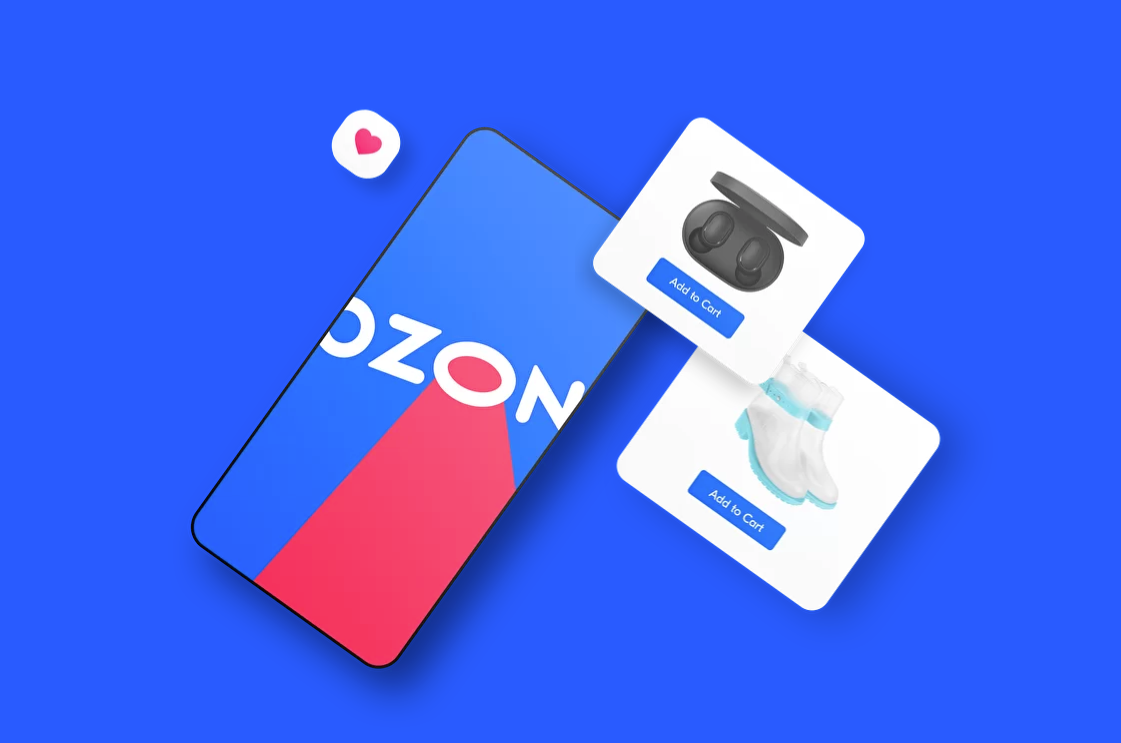 ---
THE STATE OF E-COMMERCE
Before going any further, what is the state of eCommerce in Russia?
eCommerce penetration is low at 6%, versus 27% for China
eCommerce makes up 11% of total Russian retail sales - Lower than 16% global average
Russia isn't standing still as eCommerce sales grew 51% YoY during first 6 months of 2020
---
THE MARKET
The market is set to grow by around 6 to 15% over the next 5 years.
1. According to Statista, sales in the Russian eCommerce market is projected to reach $ 24B in 2020
Sales are expected to grow at 6.1% over 2020 - 2025 period, resulting in sales of $ 32B by 2025
2. According to Euromonitor, annual online sales in Russia are expected to grow by more than 40% this year to around RUB 2.5 T ($ 32.5B)
Followed by a 10-15% increase a year over the next five years (2020 - 2025 period)
---
THE GROWTH DRIVERS
So the market is growing, but what are the underlying drivers?
The pandemic gave a considerable boost as consumers were locked in
Large headroom for eCommerce penetration also sustain Russia's online sales rise

"The Russian e-commerce market is growing significantly faster than in the United States or in the largest EU countries, thanks to the low penetration base effect" By Data Insight co-founder Boris Ovchinnikov


Consumers flock to eCommerce as the leading players provide a better service through investments in logistics (e.g. pick up points) and a broader product offering

"The retailer [Wildberries, a leading eCommerce in Russia], which says it has over 34 million customers, now has 13 warehouses and dozens of sorting and distribution centres across Russia which reduce delivery times" By Anna Rzhevkina & Alexander Marrow for Reuters
Needless to say, eCommerce in Russia is growing fast:
During the April-May period, Ozon recorded an 84% increase in new active buyers year over year
eCommerce is not limited to Russia's main cities as regions outside of Moscow now accounted for 55% of Ozon gross merchandise value
---
THE KEY PLAYERS
The market is still highly fragmented as the top 3 players only control 18% of the market according to the Financial Times
For comparison, Amazon controls over 50% of the US market on its own
But who are these key players?
Wildberries.ru reported $ 1.7B in sales in 2019 and got 139m website visits in Oct 2020
Grew by 89% in 2018 - 2019 period and controls 9 to 13% of the market
AliExpress.ru got 112m website visits in Oct '20 (Sales estimates vary but could be approximated to $ 1B)
Grew by 162% in 2018 - 2019 period and controls 6 to 8% of the market
Ozon.ru reported $ 832m in sales in 2019 and got 70m website visits in Oct 2020
Grew by 87% in 2018 - 2019 period and controls around 6% of the market
---
CHINESE COMPETITION
What is AliExpress exactly? Sounds like a shop we've already seen in China.
Remember that Russia is a large country
It touches both the European Union and China
Will eCommerce giants from China try to enter the market? Well, according to Bloomberg & TechCrunch:
Alibaba teamed up with Mail.ru in order to create a Russian eCommerce joint venture: AliExpress
Mail.ru already delivers online services (social media, email, food delivery) to 100m registered users
Alibaba holds 48% of the venture and Mail.ru gets 13% (other backers get the rest)
Before this joint venture, Alibaba was managing AliExpress in Russia on its own
However, it was losing market share because of the long delivery time for orders from China
It therefore chose to partner with a local and experienced company
---
THE DISTANCE ISSUE
If eCommerce is not mature yet in Russia, it's not without a reason as the main problems lies in the long distances and weak infrastructure:
The country counts 11 different times zones and stretches over 9,000km (5,600 miles)
eCommerce players are well aware of these challenges, they invest massively in decentralized infrastructure at key nodes of the network
Ozon now has over 200,000 SQM of fulfilment infrastructure across Russia
It now counts 16,700 pickup points and delivery lockers
Low labor costs help keep prices down as they are building out their logistics

"Delivery is also optimized by redistributing logistics hubs: companies are betting on cross-regional delivery, moving away from the centralized federal system. This lowers shipping costs and market entry barriers for new companies. WildBerries and Ozon are planning to open large trade and distribution centers in Yekaterinburg, and the Kazan suburb of Zelenodolsk is also being developed by logisticians from Yandex.Market and X5 Retail Group" Retail.ru
---
THE CURRENCY ISSUE
It is no secret that the Russian Ruble (Russian currency) has been under pressure these last years:
The exchange rate reached 0.043 USD per Ruble in 2008
It then decreased to 0.027 USD per Ruble in 2014
It now trades at 0,013 USD per Ruble
What are the factors behind the fall of the Ruble? Here is what Tomas Urbanovsky has found

"[…] the decline in global oil prices, which led to the currency crisis in Russia. However, other factors, which might have considerable effects on ruble exchange rate, […] For example changes in gold and gas prices, Russian interest rates, development of stock market and last but not least development of the USD exchange rate itself."
We are thus speaking about:
Oil prices
Natural gas prices
Gold prices
Interest rates
It is very hard to give a strong view on this part, understanding what's driving the Ruble is one of the only shields we can have when investing in Russia.
---
TAKE A BREATH
So… This is a lot of information. Let's summarise:
eCommerce penetration in Russia is low at around 11% of total retail sales - coming from 7% pre-Covid
Technology and improved logistics help eCommerce players master key challenges posed by Russia's geography and climate
The eCommerce market is highly fragmented with 4 players having a strong foot: Wildberries.ru, Aliexpress, Ozon and Yandex
Main risks come from the Ruble's constant decrease (linked to oil prices amongst other things)
---
THE PITCH
The Russian eCommerce market is not in bad shape, but why should we pick Ozon? Let's put ourselves in the shoes of Sistema, one of Ozon's largest shareholder and review what made them invest back in 2014:
eCommerce penetration was rising and would reach 7% by 2020 (Spot on!)
Fragmented market providing a golden opportunity for Ozon to stand out
Ozon was a diversified eCommerce conglomerate active in online retail, logistics and travel
Gross Merchandise Value was growing fast - From RUB 3.2B in 2009 to RUB 23,8B in 2013
Have things changed? Not really!
The market is still growing fast, is still fragmented and eCommerce penetration still has a long way to go
Ozon is still executing well, securing a top spot in Russian eCommerce
Ozon boasts 11.4m active buyers in Q3 '20, up from 5.3m in Q1 '19
It's making the switch towards a marketplace (where merchants sell their inventory) and now counts 18.1m active merchants - up from 1.3m in Q1 '19
It scores a NPS of 79! In the same range that Apple and Starbucks get
---
FINANCIAL CHECK
Note: Data concerns the first 9 months of 2020.
Sales grew by 70% YoY to $ 866m with Gross Margins of 30% (up from 19% a year earlier)
Operating expenses as percentage of sales reached 48% down from 51% a year earlier
Largest operating expense is fulfilment and deliveries at 30% of sales
Loss from operations reached $ 153m down from a loss of $ 161m a year earlier
Company had $ 66.6m in cash pre-IPO and raised $ 990m during its IPO to fund its expansion
---
BENCHMARK'S TAKE
The Good
eCommerce in Russia is getting a considerable pandemic boost as consumers had to move online in order to make their purchases
The market is fragmented and requires considerable logistical investment, creating barriers to entry for new players
Ozon has managed to grow at a very strong pace in its pre-IPO years and continues to deliver YoY sales growth of 70%, a testament to its strong market position
Ozon is scaling its operations without having to spend big on marketing, with the major share of OpEx going into logistics
The Bad
Entry for neighbouring Chinese players needs to be monitored but risk is somewhat mitigated by high infrastructure investments required
Russian Ruble has been on a downward path for the last years, a risk investors have to bear
---
Disclaimer
Please note that this article does not constitute investment advice in any form. This article is not a research report and is not intended to serve as the basis for any investment decision. All investments involve risk and the past performance of a security or financial product does not guarantee future returns. Investors have to conduct their own research before conducting any transaction. There is always the risk of losing parts or all of your money when you invest in securities or other financial products.