A Struggle to Bridge the Gap between Jobs and Workers
In the wake of a pandemic that shook the global economy, the United States faces a paradoxical situation where job openings abound, but there aren't enough workers to fill them.
The pandemic inflicted severe blows to the economy, leading to the temporary closure of over 120,000 businesses and leaving over 30 million workers unemployed. Since then, job openings have surged, while unemployment has gradually declined.
In the year 2022, employers remarkably added 4.5 million jobs.
However, this growth coexists with a concerning trend of millions of Americans leaving the labor force, resulting in nearly two million fewer active participants compared to pre-pandemic times.
The latest data reveals a staggering 9.8 million job openings juxtaposed with a pool of only 5.9 million unemployed workers.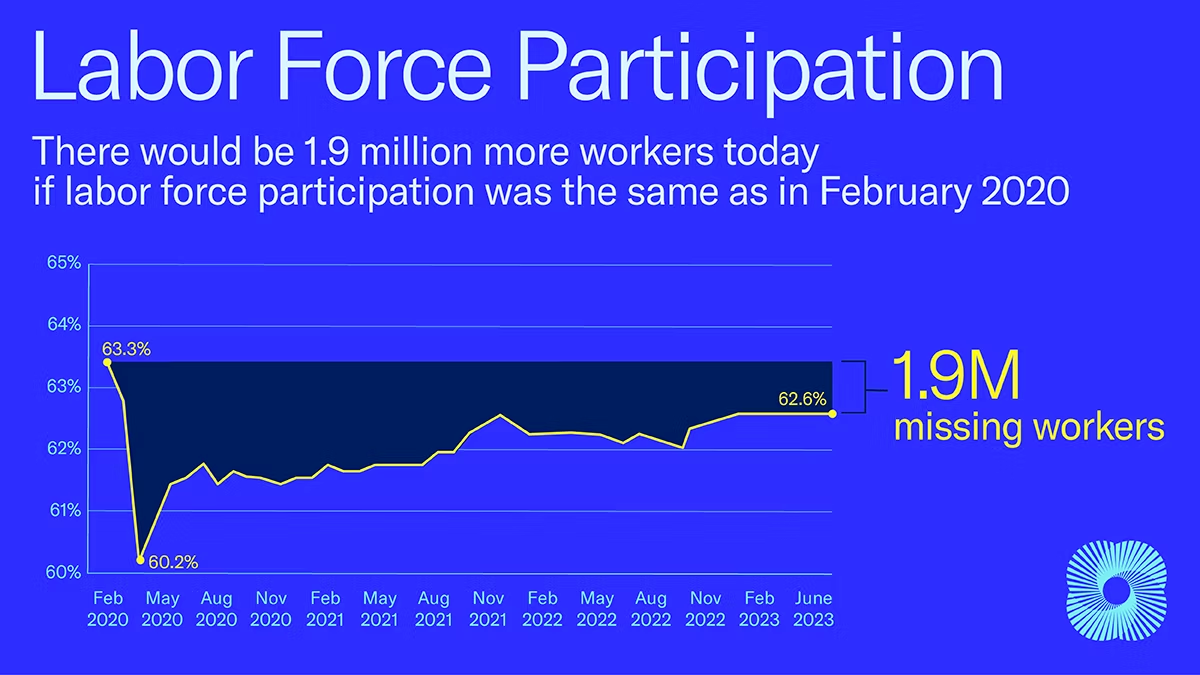 ---
Factors Behind the Labor Shortage
The ongoing labor shortage is influenced by several significant factors. These include the need to care for family members and health concerns from the pandemic. Additionally, early retirements and reduced immigration have contributed to the changing workforce landscape, impacting the labor force. Challenges in accessing affordable childcare and the rise of new business ventures have further complicated the situation. The phenomenon of "The Great Resignation" has also played a role, leading to job resignations amid the quest for better opportunities and work-life balance.
Childcare and Health Concerns
The need to care for children or family members has emerged as a significant deterrent, with 27% of unemployed workers surveyed citing this as a barrier to rejoining the workforce. Moreover, around 28% of respondents indicated that health issues have taken precedence over seeking employment, underscoring the lingering impact of the pandemic.
Early Retirements and Reduced Immigration
The pandemic-induced turbulence prompted over 3 million adults to opt for early retirement, contributing to a 50.3% detachment rate of adults aged 55 and older from the labor force in Q3 2021. Additionally, net international migration to the U.S. has substantially decreased, causing a significant drop in the country's population growth, further exacerbating the labor shortage.
"U.S. Census Bureau data shows that net international migration to the U.S. only contributed to a 247,000 person increase to the U.S. population between 2020 and 2021. Compared to the prior decade's high of a 1,049,000 increase in our population between 2015 and 2016 due to immigration, the impact that immigration has had on U.S. population growth dropped by 76%." by Stephanie Ferguson for the U.S. Chamber Of Commerce
New Business Ventures and Increased Savings
In a display of entrepreneurship, a significant number of employees either chose to open their businesses or remained unemployed to pursue such ventures. Over the past two years, close to 10 million new business applications were filed, with more than 4 million new businesses started in 2020 alone. Furthermore, enhanced unemployment benefits and stimulus checks, along with reduced spending opportunities during the pandemic, led to a collective addition of $4 trillion to Americans' savings accounts. Notably, enhanced unemployment benefits resulted in 68% of claimants earning more on unemployment than while working, leading many to remain outside the labor force.
The Great Reshuffle
A noteworthy phenomenon dubbed "The Great Resignation" gripped the labor force, as workers sought better opportunities and more free time, sparking a surge of job resignations. Despite four million people quitting their jobs in June 2023, the hiring rate has consistently outpaced the quit rate since November 2020.
---
More Positive News
In the United States, Japan and Europe, people aged 25 to 54 are now either employed or actively job hunting at rates not seen in the last two decades. This is helping counter the departure of older baby boomers from the workforce. Economists call this age range the prime working years, as most individuals have finished their education, are not ready to retire, and are highly attached to the labor force.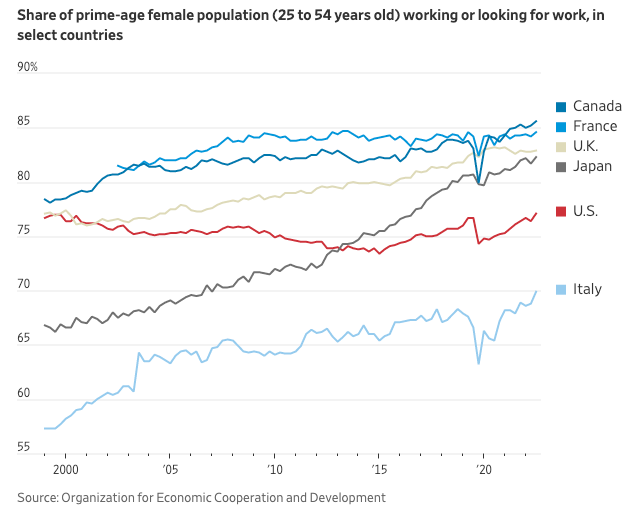 In June, the labor-force participation rate for prime-age women reached a record high of 77.8%, significantly up from 73.5% in April 2020.While men tend to have higher employment rates, the overall prime-age participation rate also rose to 83.5%, the highest since 2002.
The main reason for this resurgence is a tight labor market. With the unemployment rate near a half-century low for over a year and more job openings than unemployed individuals, employers have become less selective.
To attract and retain workers, employers have increased wages, offered more flexibility, and improved benefits in recent times.
As a result, average wage gains have remained high and surpassed inflation, and more Americans are working from home than before the pandemic.
These efforts by employers have helped counteract broader demographic shifts, such as an ageing population and an increase in retirements.
---
Benchmark's Take
The current tight labor market, along with noticeable inflation, is driving up the employment rate. Workers are feeling the pinch of inflation eroding their savings, which makes higher wages more appealing.
However, there are concerns that the Federal Reserve's efforts to combat inflation through higher interest rates might lead to increased unemployment, particularly impacting vulnerable workers.
Historically, labor-force participation follows cyclical patterns, rising during economic strength and declining during downturns. If the labor market weakens and structural barriers to employment persist, further employment gains may be limited.
You can read our July 2023 Commentary right here. In this commentary, we highlight how economic forces are impacting markets and how we are adjusting our positions in order to take advantage of current market movements.
---
Disclaimer
Please note that this article does not constitute investment advice in any form. This article is not a research report and is not intended to serve as the basis for any investment decision. All investments involve risk and the past performance of a security or financial product does not guarantee future returns. Investors have to conduct their own research before conducting any transaction. There is always the risk of losing parts or all of your money when you invest in securities or other financial products. Please note that the writer of this article is not registered as a financial advisor.
Credits