German Confidence Is Up
Since Russia's invasion of Ukraine in January, investor sentiment in Germany has improved for the first time. This is another indication that the slowdown in Europe's largest economy may not be as severe as initially anticipated.
A carefully monitored barometer of economic confidence from the ZEW Institute, which measures investors' expectations for the next six months, increased for the fourth consecutive month to 16.9 from negative 23.3 in December
The reading was much higher than the negative 15 expected in an economists' poll conducted by Reuters
The encouraging figure follows last week's announcement by the German federal statistics office that the nation's economy grew by 1.9% in 2022. When compared to earlier expert predictions of a contraction, the office now anticipates stagnation in the fourth quarter.
---
Cheaper Gas And China
Following Russia's invasion of Ukraine in late February, gas prices spiked, raising concerns of a sudden decline in Germany's energy-intensive manufacturing sector. However, recent weeks have seen a dramatic decline in energy prices, returning them to pre-war levels. The impact of the energy crisis has also been lessened by extensive government assistance for businesses and people.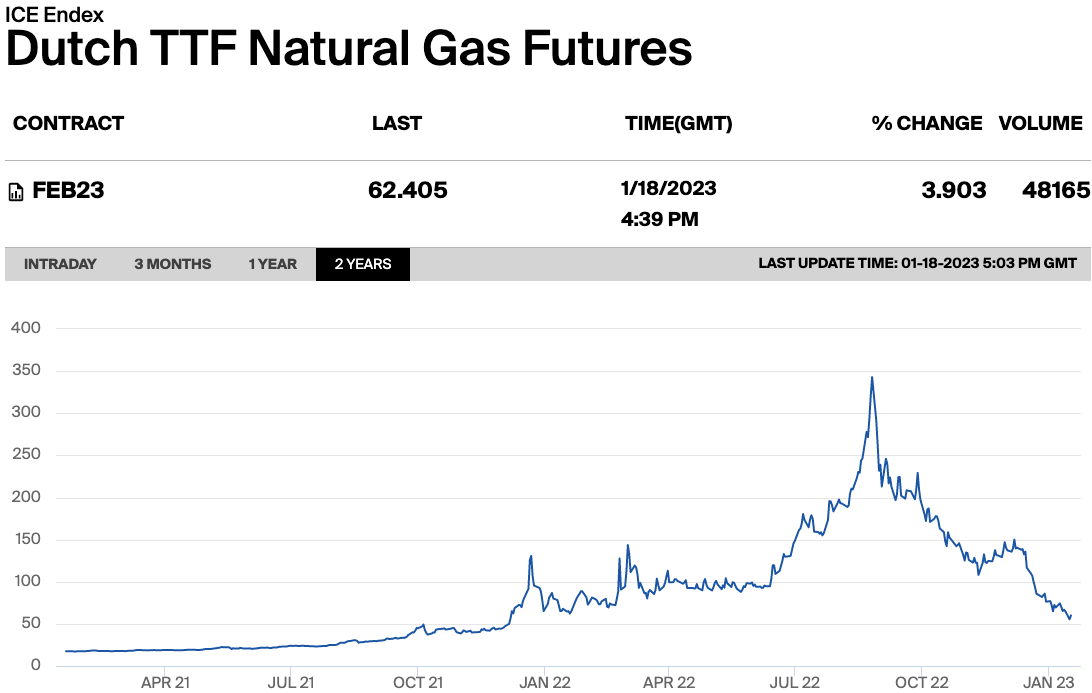 According to the ZEW Institute, these fiscal support measures, along with the easing of Covid-19 limitations in China, sparked an increase in consumption that lessened the negative economic effects of the Ukrainian conflict
Investor confidence has increased by 40.2 points as a result of a recent reduction in German inflation. According to finalized inflation data released on Tuesday by the German federal statistics agency, harmonised consumer prices increased by 9.6% in the year to December 2022 compared to the 11.3 % recorded for the prior month
However, the core inflation rate, which excludes fluctuations in the cost of energy and food and is thought to be a more accurate indicator of underlying price pressures, stood at 5.2% in December 2022, up from 5% in November
---
Recession?
The unemployment rate in the Eurozone stayed a 6.5% in November 2022, which is more than 0.5 percentage points lower than it was a year ago.
The number of unemployed people in the European Union as a whole stood at 12.9 million, keeping the unemployment rate at a record low of 6%, one-half point lower than in 2021.
Prior to the pandemic, the unemployment rate in the eurozone was 7.2% and that of the EU as a whole was 6.5%
---
Disclaimer
Please note that this article does not constitute investment advice in any form. This article is not a research report and is not intended to serve as the basis for any investment decision. All investments involve risk and the past performance of a security or financial product does not guarantee future returns. Investors have to conduct their own research before conducting any transaction. There is always the risk of losing parts or all of your money when you invest in securities or other financial products. Please note that the writer of this article is not registered as a financial advisor.
Credits
Photo by Maheshkumar Painam on Unsplash.