Population Growth And Lower Cost Of Living Help These States
The states benefited from demographic changes before and throughout the pandemic, with large payroll increases in the retail, warehousing, technology, and transportation industries.
Companies have relocated operations to these states, and workers have relocated as well, leaving more congested and expensive urban regions behind
During the pandemic, the states, all of which are governed by Republicans, had comparatively lax Covid-19 restrictions, which analysts say helped to cushion the impact to their economies
---
Fewer People Employed Throughout The U.S.
The labor force participation rate remained at 61.9%, down 1.5 percentage points from February 2020. Despite a record increase in 2021, payrolls are still well below pre-pandemic levels. The number of people employed is still more than 3 million fewer than it was in February 2020.
However, as businesses fight for talent in a tight labor market, the unemployment rate has decreased to 3.9% in December 2021 while it stood at 3.5% before the pandemic started.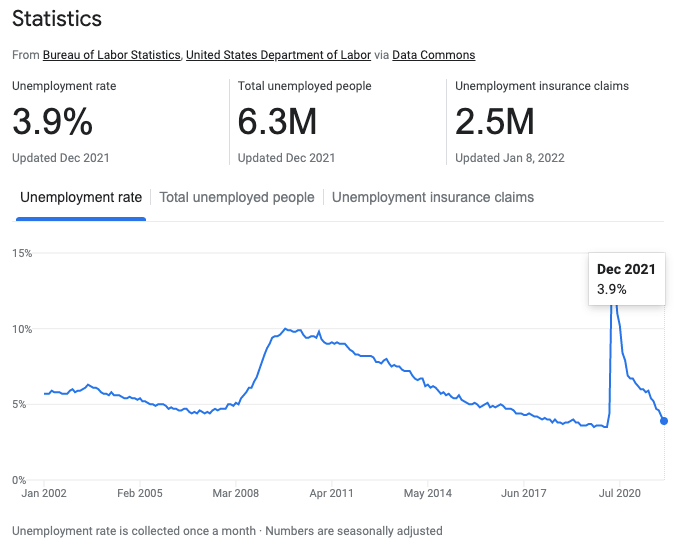 Yet, the employment rate remains somewhat lower than pre-pandemic levels but is trending higher as stimulus payments have stopped, mortgage rates have increased and consumer prices boom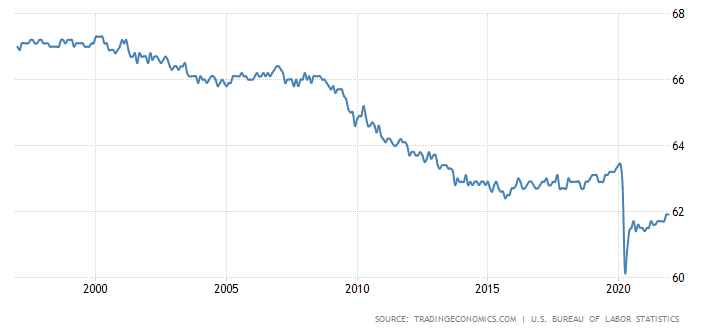 ---
BENCHMARK'S TAKE
The labor force participation has been trending down over the last decades as demographical changes (ageing of population) is pushing people out of the labour force
With an unemployment rate a 3.9% and a labor force participation close to pre-pandemic levels, labor shortages might persist
The Fed's targeted rate increases may help slow down the demand for workers while pushing people back to work as rates increase
---
Disclaimer
Please note that this article does not constitute investment advice in any form. This article is not a research report and is not intended to serve as the basis for any investment decision. All investments involve risk and the past performance of a security or financial product does not guarantee future returns. Investors have to conduct their own research before conducting any transaction. There is always the risk of losing parts or all of your money when you invest in securities or other financial products.
Credits
Photo by Christopher Burns on Unsplash.