Sellers Are Not Selling And Buyers Aren't Buying
As a result of high mortgage rates and home prices, which drove many potential buyers out of the market, existing-home sales in the United States fell for a record 10th consecutive month in November.
The National Association of Realtors reported Wednesday that sales of previously owned houses fell 7.7% from the previous month to a seasonally adjusted annual rate of 4.09 million, the lowest pace since May 2020
From November of last year, sales dropped 35.4%. According to data dating back to 1999, this decline-only trend is the longest ever observed
---
Mortgage Payments Are Getting Prohibitive
Sales of existing homes have decreased by around 37% since their most recent high in January. Early in November, mortgage rates increased sharply to over 7% from 3.1% at the end of 2021. This increased many purchasers' anticipated mortgage payments by hundreds of dollars a month, driving many potential buyers away from the market.
United States Existing Home Sales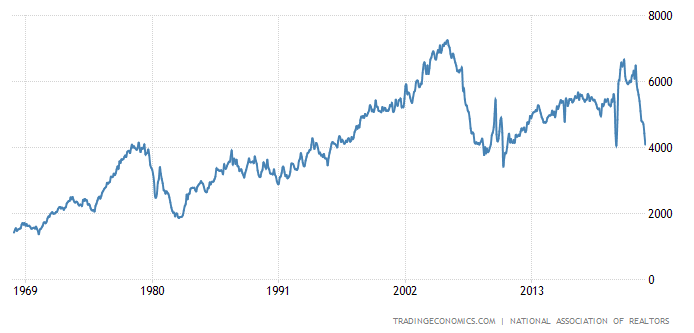 Low supply helped keep prices higher than a year ago, up 3.5% to a median sale price of $370,700
However, those annual gains are eroding quickly as first-time buyers stayed away from the market as prices remained high and borrowing rates reached a cyclical top
They contributed 28% of sales in November, the same as in October and somewhat more than in November 2021 when they contributed 26%
Historically, around 40% of the market has been made up of first-time purchasers. The annual proportion was 26%, the lowest since the Realtors started keeping track, according to a separate study
"In essence, the residential real estate market was frozen in November, resembling the sales activity seen during the Covid-19 economic lockdowns in 2020, [...] The principal factor was the rapid increase in mortgage rates, which hurt housing affordability and reduced incentives for homeowners to list their homes. Plus, available housing inventory remains near historic lows." Lawrence Yun, NAR's chief economist
---
Disclaimer
Please note that this article does not constitute investment advice in any form. This article is not a research report and is not intended to serve as the basis for any investment decision. All investments involve risk and the past performance of a security or financial product does not guarantee future returns. Investors have to conduct their own research before conducting any transaction. There is always the risk of losing parts or all of your money when you invest in securities or other financial products.
Credits
Photo by Breno Assis on Unsplash.