Coupang is a South Korean e-commerce company founded in 2010 by Bom Kim. The company made headlines for its Rocket Delivery services which deliver fresh items and products to customers in one day.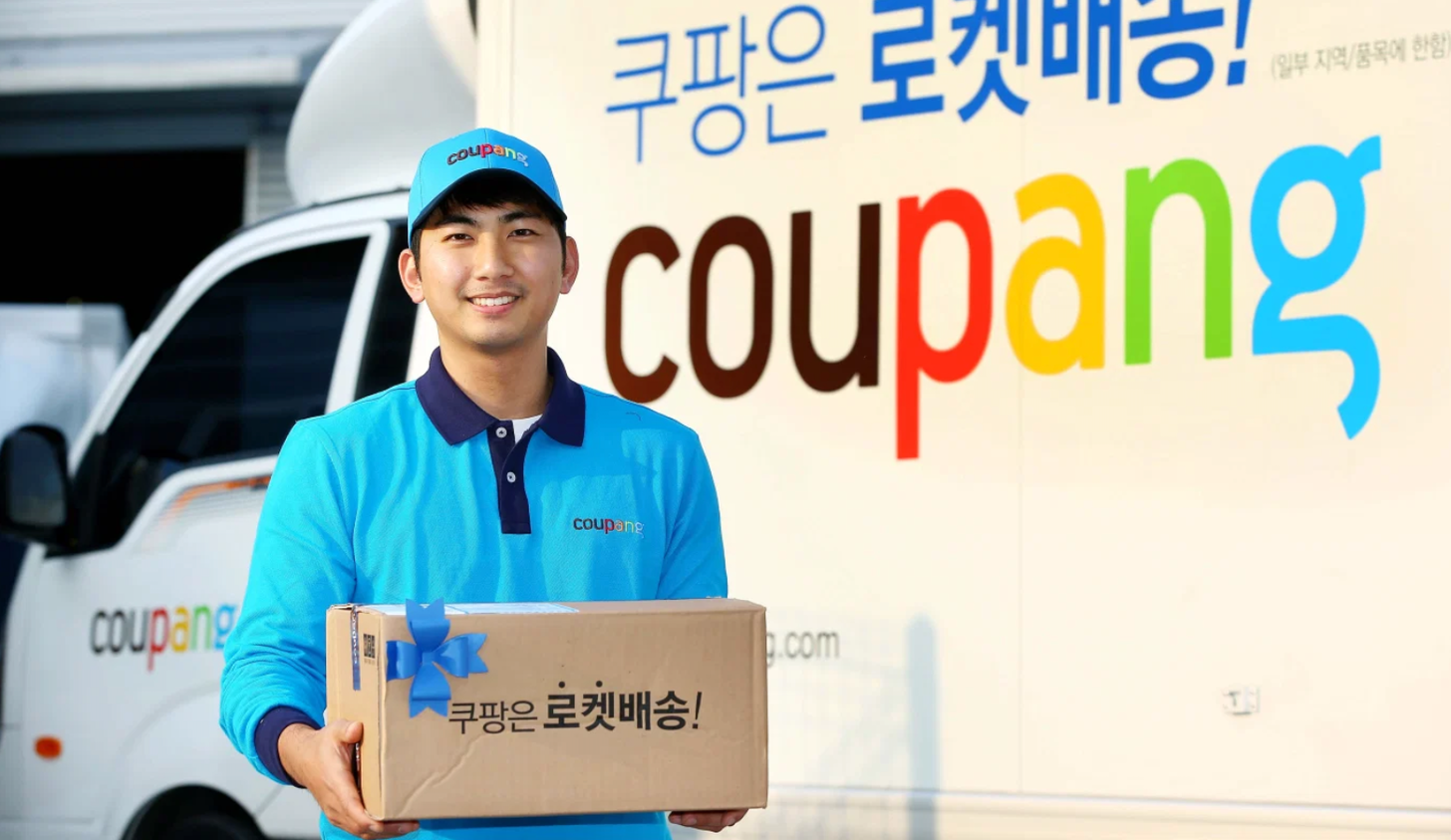 ---
ROCKET DELIVERY
Coupang owes its dominant position in the South Korean e-commerce landscape to its speed of delivery and customer obsession. This has pushed the company to develop its own logistics operations to maximise delivery speed, improve customer service and guarantee an extensive product offering at all times.
Dawn and same-day delivery: Millions of items every day (including fresh groceries) are delivered within hours via Dawn Delivery (ordered as late as midnight, arrive before 7am) or Same-Day Delivery (ordered in the morning, arrive same-day)
Next-day or faster delivery for nearly 100% of orders: Customers are eligible for free, one-day delivery nationwide 365 days a year (even the day before gift-giving holidays like Christmas or Korean Thanksgiving)

"Coupang's logistics investments have paid off, as 99.3% of orders placed on its site are delivered within one day, the company said. Coupang now delivers 3.3 million items each day, up from an average of 2.2 million units per day at the end of 2019." Annie Palmer for CNBC
Last order by midnight: Customers are promised free, next-day delivery for orders placed any time of day
Vast selection of items, including fresh groceries: Customers can order from a selection of millions of items across almost every category of goods—from tomatoes to TVs—for next-day delivery

"We have the largest number of total SKU count for owned inventory products listed on our e-commerce apps and websites compared to other product e-commerce players in Korea." Coupang S1
---
OPTIMIZED OPERATIONS
Coupang is attracting consumers with low prices, enabled by optimized operations and economies of scale. The company also insures frictionless returns through the Coupang app and has managed to eliminate cardboard boxes in 75% of its deliveries.
Low prices every day: Coupang has carved its position as a cost-leader by closely integrating technology and logistics and through significant scale economies. Coupang then passes these savings on to customers in the form of free shipping and low prices

"We achieve this through our diversified procurement strategy, which involves scaled procurement from local and international suppliers, direct sourcing from manufacturers, and our creation of a system that rewards merchants for providing competitive prices." Coupang S1

Boxless / zero packaging: Their fulfillment process eliminated cardboard boxes in over 75% of the parcels. Their latest innovation, Zero packaging eliminates almost all disposable packaging by delivering in eco-bags that are collected for reuse after each delivery
Frictionless returns: Customers tap a button on the app and leave the item outside their door for pickup. Refunds are initiated when the item is picked up at the door

"These efforts appear to be working, since more than half of all Koreans have downloaded Coupang's app, the company says." Annie Palmer for CNBC
---
THE MARKET
South Korea is the third biggest e-commerce market in Asia, behind China and Japan. According to Euromonitor, the food delivery market jumped 40% in 2020 as a consequence of the pandemic.
According to Statista, revenue in the online food delivery segment is projected to reach $ 2.9B in 2021
Revenue is expected to show a CAGR of 7.7% over the 2021 - 2024 period, resulting in a projected market of $ 3.6 B by 2024
The market's largest segment is restaurant-to-consumer delivery with a projected market of $ 1.6B in 2021
According to Statista, revenue in the eCommerce market is projected to reach $ 80.9B in 2021
Revenue is expected to show a CAGR of 5.2% over the 2021 - 2024 period, resulting in a projected market of $ 99.2B by 2025
The market's largest segment is fashion with a projected market of $ 23.5B in 2021
User penetration will be 74.5% in 2021 and is expected to hit 83.0% by 2025

"According to a report by Research and Market e-commerce sales already made up nearly 20% of total retail sales due to factors such as a developed Internet infrastructure and having the highest Internet penetration rate in the region." Nordea Bank Abp

"Korea benefits from the highest smartphone penetration of any country in the world, with 96% of the population using smartphones as of 2018, compared with 89% in the United States and 71% in China. Mobile shopping, which has become the most popular channel online, has fueled the growth of online retail." Coupang S1
---
FOUNDER-LED AND EXPERIENCED MANAGEMENT
Bom Suk Kim is the CEO of Coupang. He dropped out of his MBA at Harvard and was inspired by the Groupon model to launch Coupang. Gaurav Anand is the CFO and previously held positions at Flipkart and Amazon.
Bom Suk Kim is the founder of Coupang and serves as the Chief Executive Officer and a member of the board of directors since May 2010
Attended Harvard University, earning an A.B. degree in Government
Gaurav Anand serves as the Chief Financial Officer since December 2020
Prior to joining Coupang, Anand served as Vice President of Finance at Myntra, a fashion subsidiary of Flipkart, from November 2014 to December 2016. He also previously worked at Amazon from 2007 to 2014, holding various Finance positions across North America retail, International retail, AWS business, and payments business
Earned a Master of Business Administration from the University of Michigan
Hanseung Kang serves as the Representative Director of Business Management since November 2020
Prior to joining Coupang, Mr. Kang worked as an attorney at Kim & Chang from February 2013 to November 2020, where his practice focused on crisis management, communication strategy, and government affairs. From August 2011 to February 2013, Mr. Kang served as the Secretary to the President of the Republic of Korea for Legal Affairs. Mr. Kang has also served as a Special Counselor to the Legislation and Judiciary Committee of the National Assembly of the Republic of Korea, and as the Counselor for the Judicial Affairs at the Embassy of the Republic of Korea in the U.S.
Received his LL.B. from Korea University and attended the Judicial Research and Training Institute of the Supreme Court of Korea
---
TAKE A BREATH
So… This is a lot of information. Let's summarise:
Coupang is an e-commerce and food delivery player in South Korea backed by giants such as Softbank and BlackRock
It has built an extensive logistical network that enables it to deliver over 99% of its parcels in the same day
This technological advantage enables it to undercut competitors on pricing and guarantee low prices and customer satisfaction
Following the pandemic, the food delivery market has risen by 40% in one year while high levels of mobile phone penetration give South Korea a leading position in terms of e-commerce sales
---
FINANCIAL CHECK
Net sales reached $ 11.9B in 2020, up 91% year-on-year from $ 6.2B a year earlier
It counted 14.9m active customers for the three months ended December 31, 2020 versus 11.8m a year earlier
Net revenues per active customer stood at $ 256 versus $ 161 a year earlier
Gross margins stood at 17% in 2020, up from 16% in 2019
Operating expenses stood at 21% of sales in 2020 versus 26% in 2019
The company recorded a net loss of $ 474m in 2020 versus a loss of $ 699m in 2019
Coupang had $ 2.8B in current assets versus $3.7B in current liabilities of which $ 2.9B consisted in accounts payable
A year earlier, it recorded $ 2.2B in current assets versus $ 1.9B in current liabilities while accounts payables stood at $ 1.6B
---
BENCHMARK'S TAKE
The Good
Coupang is growing at a fast clip and is now the leading e-commerce player in South Korea
It mainly differentiates itself with a fast and convenient delivery and a wide assortment of products
Its competitive position is supported by its investments in logistical infrastructure and an optimized delivery network as 70% of the South Korean population lives within 7 miles of a Coupang logistics center
The Bad
The company is expanding into financial services with Coupang Pay. These and adjacent opportunities may require deep and lengthy investments, compromising profitability going forward
The company may face some pressure should its current liabilities further increase
---
Disclaimer
Please note that this article does not constitute investment advice in any form. This article is not a research report and is not intended to serve as the basis for any investment decision. All investments involve risk and the past performance of a security or financial product does not guarantee future returns. Investors have to conduct their own research before conducting any transaction. There is always the risk of losing parts or all of your money when you invest in securities or other financial products.