Digital Turbine is an advertising technology company from Austin, Texas that started in 2011 and has around 210 employees. Its mission is to simplify content discovery by delivering it directly to the device.
Over 40 mobile operators (e.g. Verizon, T-mobile, AT&T) and Original Equipment Manufacturers (OEMs) such as Samsung, Xiaomi and HTC use their services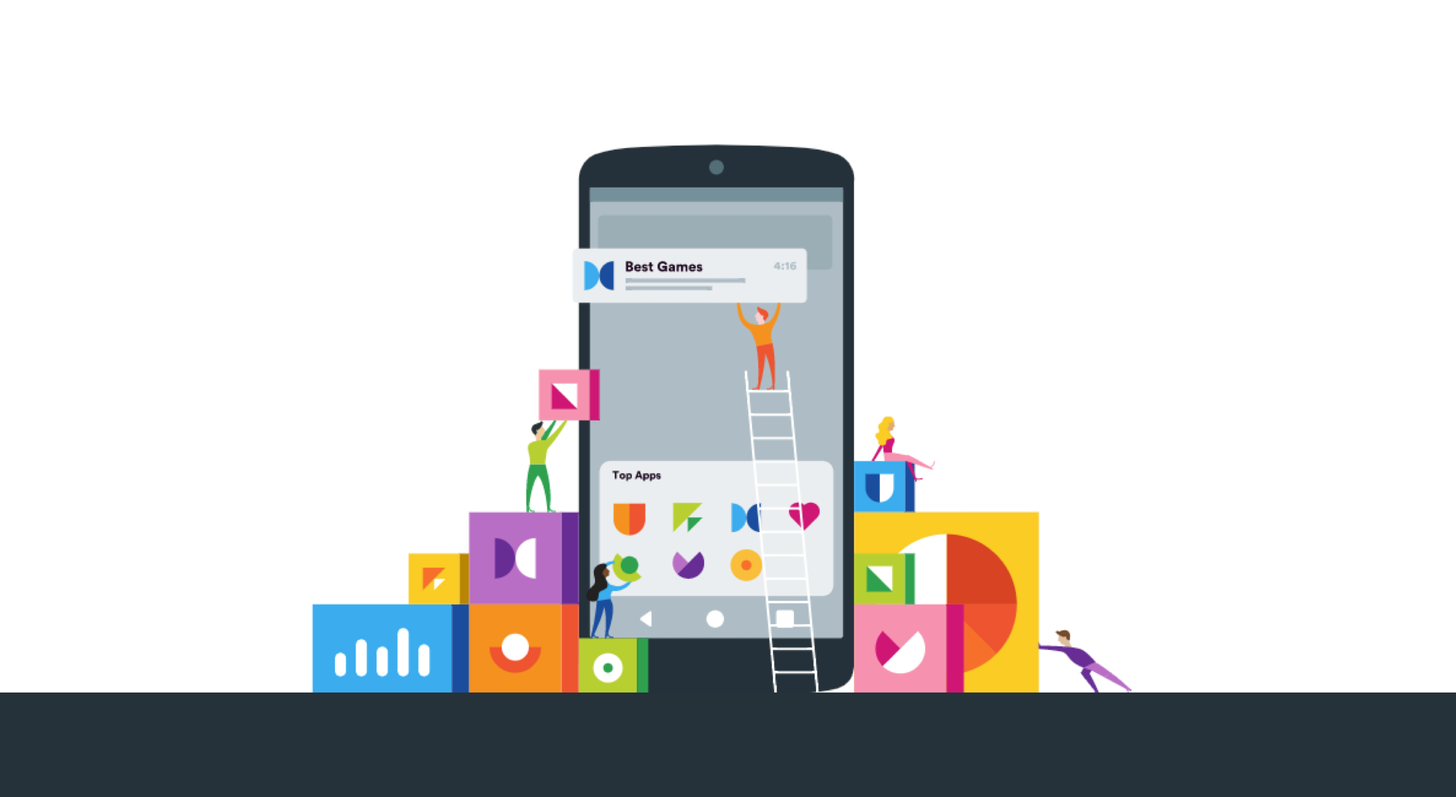 ---
APP DELIVERY
Digital Turbine's software acts as an app-installation/recommendation-engine directly on the smartphone. This enables mobile phone manufacturers and mobile operators to deliver a customized experience to their customers.
1. Dynamic Installs
This starts once the new user unpacks the new phone (Out of the Box Experience, OOBE). The user then sets up its account and gets directed to a "Let's set up your apps" page where the OEM or operator can propose apps to the user.
This enables the user to directly and seamlessly install the apps it is interested in on its phone
A win-win for the OEM or operator as they can charge the companies whom they are promoting their apps for
Also, at the time of the set-up, some apps get automatically pre-installed (based on user profile and demographics).
This enables to OEM or operator to install apps that its user might want
These pre-installed apps are sponsored by app makers (Facebook, Uber, Twitter, Pandora, Starbucks, Target…) and the money goes into the OEM or operator's pocketDigital Turbine makes money by licensing this software to OEMs and mobile phone operators and these accounted for 86% of sales in 2019.
2. Engagement Opportunities
Digital Turbine added products to generate sales during the life / usage of the device. These are called "Engagement Opportunities" and consist in the SingleTap Installs, Smart Folders, Notification and Media Hub solutions.
These are paid for by app makers and promoted by Digital Turbine
According to the company, this increases conversion rates up to 10 times and it is already available on over 270m devices
Through its Notifications, Media Hub and Smart Folder products, Digital Turbine proposes the download of additional apps to the users
Users can place their gaming apps into a "Games Folder", Digital Turbine then proposes matching games to the user in instant download
Third parties can send notifications to the users on special occasions (promotions, important events….) enabling these to instantly download the app
Digital Turbine gets paid by app makers to promote their app directly on the users' smartphone which accounts for 14% of sales.
---
ANDROID FOCUS
Digital Turbine's solutions cater to Android devices. These allow developers to add their own build on top of the operating system. Unlike iOS, the Apple operating software, which can be considered as "closed". How large is Digital Turbine's opportunity?
First, let's look at the Android versus iOS share of devices:
In the U.S. around 53% of smartphones are running iOS and 47% Android
In the E.U. around 26% of smartphones are running iOS and 73% Android
In Asia around 17% of smartphones are running iOS and 83% Android
In Latin America around 11% of smartphones are running iOS and 89% Android
In Africa around 11% of smartphones are running iOS and 87% Android
These market shares have been stable over the last years. While Digital Turbine's sales have been growing in key geographies.
U.S. and Canada sales reached $ 90m in 2020 up 24% year-on-year
E.U. and Africa sales reached $ 35m up 88% year-on-year
Asia sales reached $ 12m up 27% year-on-year
Latin America sales reached $1.6m down 39% year-on-year
---
SMARTPHONE SALES AND USAGE
Smartphones sales grew from 122m in 2007 to 1.5B units by 2017 and have since then plateaued as gains in smartphone penetration have been more limited in recent years and customers kept their phones longer. However, smartphone usage and ad spend increased sharply.
Consumers are not buying as many smartphones but smartphone usage, app downloads and mobile ad spend are growing. With its engagement opportunities, Digital Turbine is thus playing right into the increased smartphone usage.
It has delivered over 4.2B app pre-loads since launch and their software was installed on more than 500 million devices to date
Digital Turbine still has a considerable runaway for growth as its software is currently installed on only 13% of Android devices
Growth is fuelled by deals with Samsung, LG, Xiaomi and major telecom operators
---
THE MARKET
Smartphone sales are set to plateau while growth in mobile advertising and app downloads is supported by decreasing smartphone prices, increasing time spent on mobile and growing mobile advertising spend.
According to Statista, mobile advertising spending in the U.S. is set to reach $ 138B by 2025, up from $ 46B in 2017
Driven by spending on social media advertising which is set to reach $ 48B by 2025, up from $ 16B in 2025
According to the IMARC group, global mobile advertising market to reach a value of $ 269B by 2026
Driven by the growing mobile subscriber base, decrease in phone prices and data plans

"Increasing mobile subscriber base, availability of cheaper smartphones and tablets, access to affordable data plans, prompt growth in 3G/4G subscriptions have further boosted the use of mobile devices for entertainment and information purposes." IMARC Group

According to SensorTower, spending on apps is set to reach $ 270B by 2025, for a 19.5% CAGR over the 2020 - 2025 period
Driven by growing spending on apps and a growing number of app downloads (representing a CAGR of 10% over the 2020 - 2025 period)

"Though the pandemic pushed in-app spending up by 30% year-over-year to a record $111 billion in 2020, the new forecast predicts general in-app spending will return to pre-COVID levels over the next five years. It says gross revenue across both app stores will climb each year with a 19.5% compound annual growth rate (CAGR) to reach $270 billion by 2025." by Sarah Perez for TechCrunch
---
EXPERIENCED MANAGEMENT
Bill Stone is the CEO of Digital Turbine. He joined the company in 2012 after serving at Qualcomm, Verizon and Vodafone. Barrett Garrison is the CFO and previously served at Competitor Group and Netspend.
Bill Stone is Digital Turbine's Chief Executive Officer. Joined Digital Turbine in September 2012, and was elevated to CEO and Board Member in Oct. 2014
Prior to joining Digital Turbine, Bill served as Senior Vice President of Qualcomm, Inc. and as President of its subsidiary, FLO TV and MediaFLO Technologies Inc., from 2009 to 2011. From 2007 to 2009, he served as CEO and President of Handango (acquired by Appia Inc.), a smartphone application storefront provider. He has held executive positions at several mobile operators, including Verizon, Vodafone, and AirTouch. Bill is a Board Member at Sift Media, where Digital Turbine has an equity position
Received his BA and MBA from Rice University
Barrett Garrison serves as Executive Vice President and Chief Financial Officer
Prior to his appointment to Digital Turbine's Executive Vice President and CFO, Barrett served as CFO of Competitor Group, Inc., a media and event company in the active lifestyle industry, from March 2014 to March 2015. He also served as the Chief Financial Officer of Netspend, a division of TSYS Company, a leading provider of reloadable prepaid debit cards, from June 2013 to March 2014, and its Treasurer/VP of Finance from October 2008 to June 2013. Prior to his Netspend position, Barrett served in senior corporate financial roles at Dell Financial Services, Seiko Instruments International, and Austaco, Inc
Has a Master of Business Administration with a concentration in Finance from St. Edward's University and a Bachelor of Business Administration in Finance from The University of New Mexico, Robert O. Anderson School of Management
Christine Collins serves as the Chief Technology Officer
Prior to joining Digital Turbine, she served as CTO of Global Business Solutions for North America at First Data Corporation, a leading global payment and commerce solutions provider. While there, she created new mobile platforms for Samsung Pay and Android Pay while also maintaining stability for one of the largest payments systems in the world. Prior to First Data, Christine served in senior leadership roles at Viewpointe, where she structured the development organization as well as Hewlett Packard, where she led technology strategy
Holds a Master of Business Administration from Texas A&M University and a Bachelor of Science in Accounting from Missouri State University
---
TAKE A BREATH
So… This is a lot of information. Let's summarise:
Digital Turbine is an advertising technology company that enables telecom operators, advertisers and OEMs to pre-install and recommend apps to their users
Smartphone sales are plateauing at 1.5B sold each year, yet the time spent on mobile and advertising spend are rapidly growing
Digital Turbine is rapidly growing in Europe where Android phone account for 73% of units sold
---
FINANCIAL CHECK
Fiscal third quarter of 2021 revenue totaled $88.6 million, representing an increase of 146% as compared to total revenue reported in the fiscal third quarter of 2020
Application Media revenue increased 58% year-over-year to $56.9 million in the fiscal third quarter of 2021
Content Media revenue, which primarily included revenue related to the February 2020 acquisition of Mobile Posse, Inc. ("Mobile Posse"), totaled $31.7 million in the fiscal third quarter of 2021
Gross margin was 43% for the fiscal third quarter of 2021, as compared to 39% a year earlier
EBIT Margin was 23% for the fiscal third quarter of 2021, as compared to 11% a year earlier
Net income for the fiscal third quarter of 2021, inclusive of a $4.7 million adjustment to the contingent earn-out related to the Mobile Posse acquisition, was $14.5 million, or $0.15 per share, as compared to net income of $3.3 million, or $0.04 per share, for the fiscal third quarter of 2020
Current assets stood at $ 104m versus $ 98m in current liabilities
---
BENCHMARK'S TAKE
The Good
Digital Turbine has a considerable runaway for international expansion as most Android users are outside the U.S.
Digital Turbine is one of the few companies that can offer these services on a global scale and in a robust manner to telecom operators and OEMs that are looking for additional revenue streams
The company has a significant expansion opportunity in the TV market where OEMs would load the software directly into their devices
Growing number of apps increasingly require advertisers to leverage App Store Optimisation technique. Digital Turbine enables app makers to have their app directly installed on a vast array of devices
The Bad
In the same spirit as Apple, Google may start restricting access to its software or hinder advertising opportunities on its devices
OEMs and operators may start developing the software on their own and negotiate terms with sponsors directly
---
Disclaimer
Please note that this article does not constitute investment advice in any form. This article is not a research report and is not intended to serve as the basis for any investment decision. All investments involve risk and the past performance of a security or financial product does not guarantee future returns. Investors have to conduct their own research before conducting any transaction. There is always the risk of losing parts or all of your money when you invest in securities or other financial products.