Gamesys is an online gaming holding company. It was founded in 2001 by Andrew Dixon, Noel Hayden, Robin Tombs. The company is now a combination of Virgin Games, JackPotJoy, InterCasino, CostaBingo, Intertain, Vera&John and the Gamesys Group itself.
The group is now a leading operator of online casino and bingo-led games with an Annual Run Rate (ARR) of $ 1B, achieving 31% year-on-year growth and gross margins of 85%
It derives 59% of its sales from the United Kingdom and 27% from Asia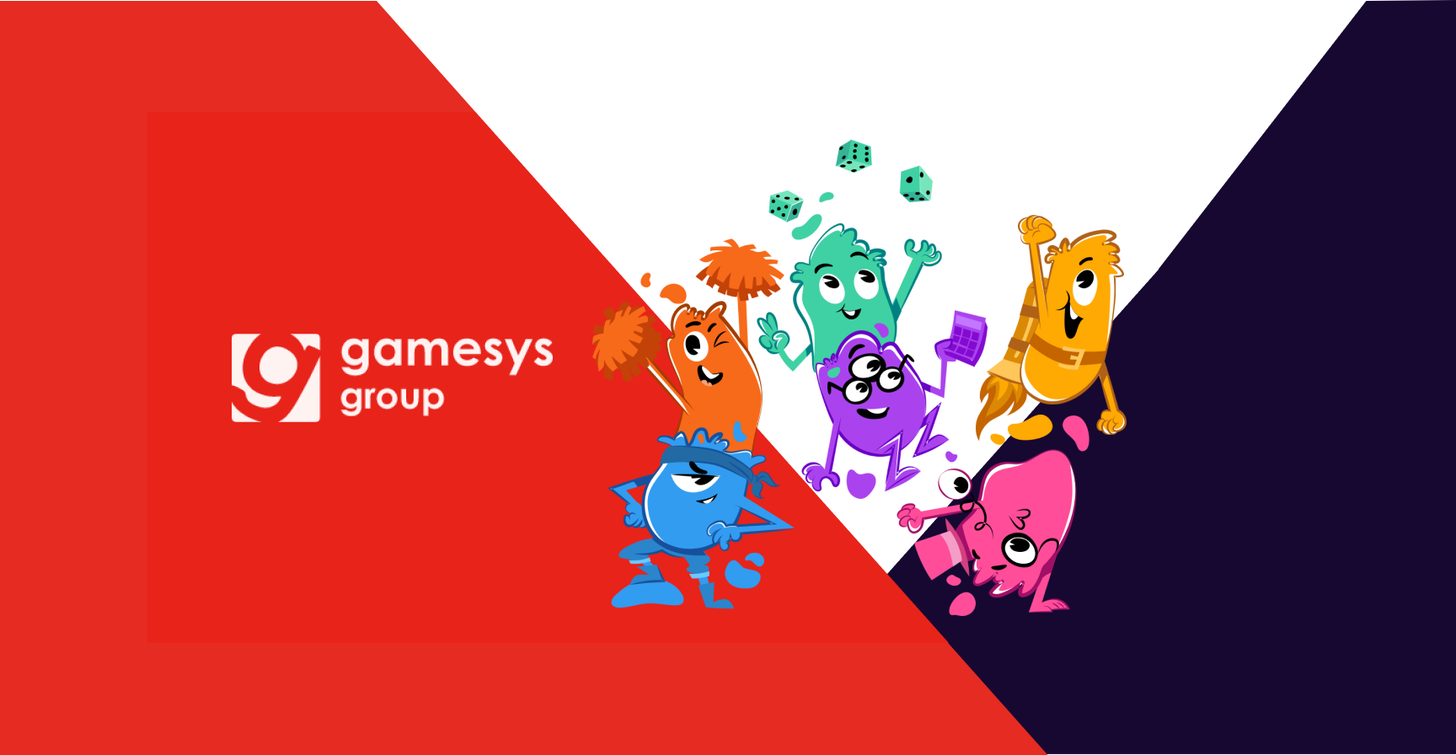 ---
ONLINE GAMING
Gamesys addresses various gambling segments through a focused and multi-brand portfolio. It counts 11 gaming brands, each targeting a specific game type, demographics and geography.
1. InterCasino is Gamesys's main brand and accounts for 27% of its sales. It was established in 1996 and provides gamers with casino, live casino, tournaments, blackjack and gambling mini-games. The website most recently expanded into Japan

"Underpinning the firm's Asian market growth profile, Q3 trading saw the successful launch of Intercasino JP, as Gamesys' second brand to go live in the Japanese igaming market." Ted Menmuir for SBC News
2. Jackpotjoy is Gamesys' first bingo-led brand which accounts for 25% of sales. It launched in the UK in 2002 and offers bingo games, online casino and slingo games
3. Virgin Games accounts for 22% of the group's sales. It originated through a partnership with Sir Richard Branson with the aim to become the UK's leading casino-led brand. The brand expanded into the U.S. with its New Jersey alternative Virgin Casino which now accounts for 1% of total sales

"Virgin partnered with Gamesys because they put the player experience front and centre. They take a lead on responsible gaming and care passionately about providing not just the fairest but also the most entertaining experiences in the industry." Josh Bayliss, CEO Virgin Group
4. Gamesys secured the rights to operate the Monopoly Casino games which launched in the U.K. in 2015 and expanded into Spain in June 2020. It also operates the (online) Tropicana Casino in New Jersey and Botemania in Spain.

"Gamesys branded Q3 trading as a 'period of notable highlights' in which the firm demonstrated its operational prowess by launching its 'Monopoly Casino' brand in Spain – which it lauded as "one of the most successful new brand initiatives in the history of the group"." Ted Menmuir for SBC News
---
GROWTH STRATEGY
Gamesys' strategy aims to support the groups' current operations while chasing fast growing markets with a repeatable market-entry framework.
1. Protect established markets
The group aims to further consolidate its market presence in the U.K. and Spanish markets. This is done by exploiting the marketing efficiencies their strong local brands (Virgin Games, Monopoly Casino) offer and by attracting additional customers through their free-to-play games.
2. Growth in Asia
Gamesys is betting on strong customer demand from Asia to support its growth. With its Solid Gaming brand, the company has developed its own B2B operations to help provide RNG games, live dealer solutions and betting offerings.

"Gamesys is developing bespoke products through its internal games studio Golden Hero, while its B2B content aggregation and services arm Solid Gaming continued to grow strongly." iBusinessGaming
3. Target new markets
Gamesys' goal is then to use the experience it made up with its Spanish, American and Japanese market entries, to enter new markets. Supported by a repeatable framework and shared gaming platforms.
---
THE MARKET
The global online gambling market is set to rise by 11.5% a year over the 2020 - 2027 period and reach $ 127B by 2027. Increasing smartphone penetration, growing customer appetite, easing regulations and technical advances (5G, live streaming) are driving the market.
1. According to Research And Markets, the global online gambling market is expected to reach $ 127B by 2027
Generating a CAGR of 11.5% over the 2020 - 2027 period
Driven by the increasing adoption of smartphones and technical advances (5G, live streaming) that enable a better online experience

"Moreover, increasing digitalization coupled with secure digital payment options are also some factors contributing to online gambling market growth." Research And Markets

2. According to Global Market Insights, the online gambling market is set to reach $ 160B by 2026, up from $ 55B in 2019 for a CAGR of 16.5%
Driven by technological advancements such as machine learning and easing regulation
3. According to Skandinaviska Enskilda Banken the live casinos segment grew by 45% a year over the 2008 - 2016 period
Driven by the rising smartphone penetration, technological advancement that improve the gaming experience and the decrease in internet costs

"Online live casino is the fastest growing segment of the online gambling market in Europe. The segment has grown with an average yearly growth of 45% since 2008. Online live casinos shares of the total online casino market has grown from a couple of percent to 25% during the same period [2008- 2016]" Skandinaviska Enskilda Banken
---
TIER-1 MANAGEMENT
Lee Fenton took the helm in 2015 after a 7 year stint a Chief Operating Office of Gamesys. Lee previously worked at 20th Century Fox and the Vodafone Group. Keith Laslop acts as Chief Financial Officer and previously worked in the video game industry. Key management people have been with the company for over 5 years and have deep experience in iGaming and finance.
Lee is the CEO of Gamesys since 2015
Initially joined Gamesys Limited in November 2008 as Chief Operating Officer. Prior to Gamesys he was Chief Operating Officer of the mobile division at 20th Century Fox and, before that, Global Director of Consumer Products & Content at Vodafone Group
Graduated in 1992 with a BA (Hons) in Media & Cultural Studies from the University of the West of England
Keith is Gamesys' CFO since 2013 and was a Director of The Intertain Group, which became a subsidiary of Gamesys
Previously served as Principal of Newcourt Capital, a boutique private equity group. He also served as CFO of Prolexic Technologies Inc. From 2001 to 2004, he served as CFO and Business Development Director of Elixir, a London-based video gaming software developer. Keith also worked during 4 years at PwC as a manager
Holds the Chartered Financial Analyst accreditation
Robeson is Gamesys' COO since 2015
Has been with the company since 2005 where he held numerous positions, including Gaming Operations Manager and Director of Gaming Operations
Graduated in 2005 with a BSc in Statistics, Operations, Research and Management Studies from University College, London
---
TAKE A BREATH
So… This is a lot of information. Let's summarise:
Gamesys is a developer of online betting games with a focus on the U.K. and Spanish market but with a growing presence in Asia
It operates a portfolio of focussed brands and partners with TIER-1 brands or acquires competitors in order to generate synergies and boost its reach
The company is growing 31% year-on-year and is profitable with 10% operating profit margins and currently scores a Enterprise Value To Sales ratio of 3
The online gambling market is set to triple by 2026, supported by increasing smartphone penetration, steady customer appetite for mobile and online gambling games and technological advancements
---
FINANCIAL CHECK
Group revenues reached £ 190.0m ($ 260m) for a year-on-year increase of 31% and compares to the 27% reported in H1 2020
Revenue growth in Asia of 86% in Q3 2020 versus a 92% year-on-year increase during H1 2020
Average monthly active users were up by 24% while total deposits were up by 45%
ARPU in the UK declined by 6% offset by a rise of 16% in Asia as the player-base in the region matures
Cash balance of £ 136.0m at 30 June 2020 and adjusted net debt of £ 391.7m
Leverage fell below 2.1x while coming from 4.5x in 2015
---
BENCHMARK'S TAKE
The Good
Gamesys is led by TIER-1 management with, on average, over 5 years tenure at the firm and with deep expertise in the online gambling industry
The group is expanding in new markets with well-known games such as Monopoly Casino and the Virgin Casino franchise
The group has managed to reduce leverage and, at 3 times sales, is fairly valued when compared to 888 Holdings, the Kindred Group and Enlabs AB
The market is set to triple by 2026, providing the organic growth Gamesys needs to further expand its sales
Gamesys' reasonable valuation provides an acceptable risk / reward ratio in a fast-growing sector
The Bad
The iGaming market is crowded with well-funded competitors, while Gamesys' debt may limit its growth going forward
Gamesys still derives the majority of its sales from the United Kingdom, placing it at the mercy of local regulation and taxation
---
Disclaimer
Please note that this article does not constitute investment advice in any form. This article is not a research report and is not intended to serve as the basis for any investment decision. All investments involve risk and the past performance of a security or financial product does not guarantee future returns. Investors have to conduct their own research before conducting any transaction. There is always the risk of losing parts or all of your money when you invest in securities or other financial products.