Prosus is the international internet division of Naspers. The company is most notable for acquiring 46.5% of Tencent in 2001 for $ 34m. Naspers later placed its Tencent stake and other global internet investments into Prosus. Today, Prosus is one of the 10 largest consumer internet groups in the world and holds:
31% of Tencent
28% of Mail.ru
21% of Delivery Hero
21% of Codecademy
15% of Udemy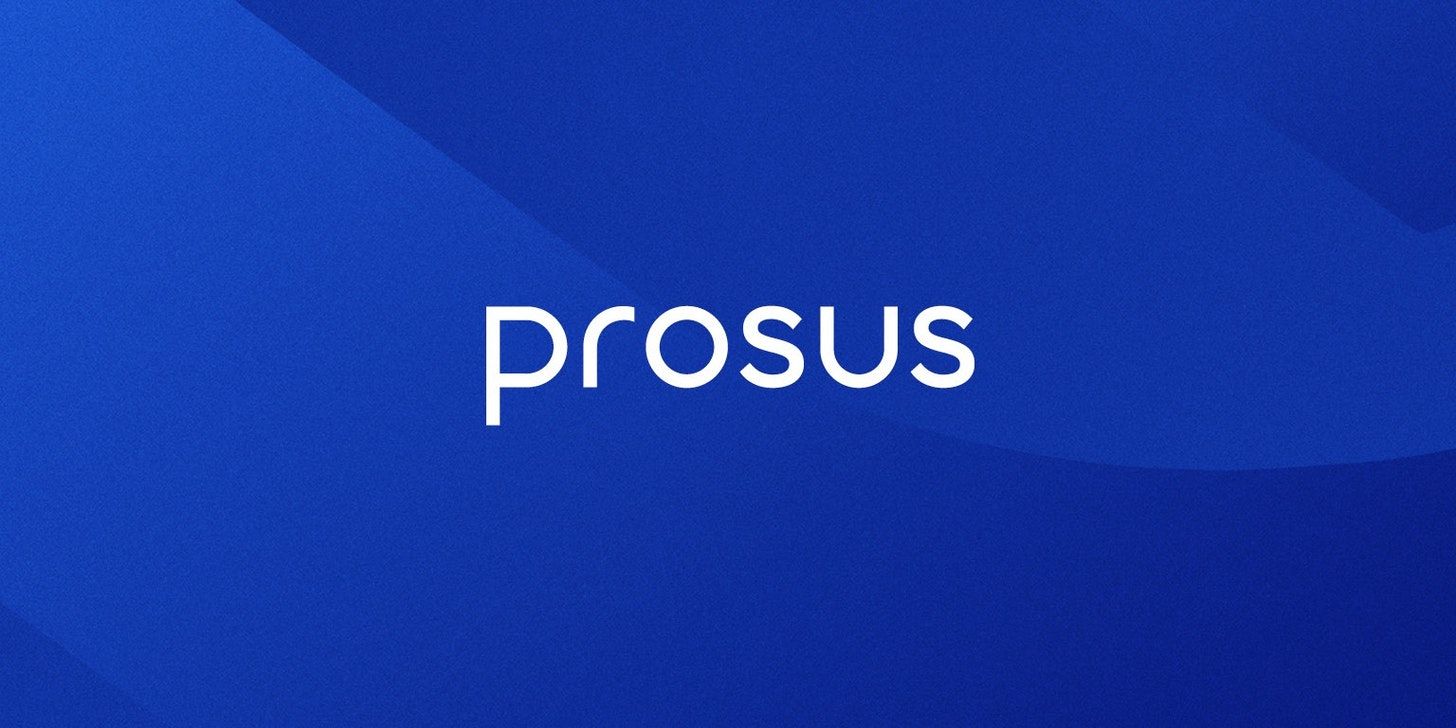 ---
MASTER PLAN
Prosus isn't a traditional consumer internet company as consumers do not transact directly with the firm. Rather it is a holding company that regroups public and private companies. Prosus creates value for its holding companies by redistributing the dividend it gets from its more mature investments into fast growing ventures in emerging markets.
1. Naspers made an early and extremely successful bet on Tencent back in 2001

"Chief Executive Koos Bekker's prescient investment of just $34 million in Tencent when it was a startup in 2001, one of the most lucrative bets in corporate history." Toby Sterling for Reuters
2. Tencent is growing sales 27% year-on-year and holds a stake in many Chinese and international gaming, e-commerce and entertainment companies

"Tencent shows no signs of slowing down. Recent purchases include a Malaysian video-streaming service and minority stakes in Universal Music and Warner Music. That's on top of a flurry of deals involving video-game rivals, e-sports companies, Australia's Afterpay and Tesla's Chinese challenger Nio" Robyn Mak for Reuters
3. Tencent's operations enable it to pay a dividend to its shareholders

"[Tencent's] strong operating performance and balance sheet are supportive of sustained dividend payments." Prosus H1 2021
4. By holding 31% of Tencent, Prosus got a $ 458m dividend during H1 2021, up 21% year-on-year from $ 377m

"Prosus accounts for the Tencent stake as an "equity accounted investment" - a single line that added $3.41 billion euros to Prosus' 2019 pretax profit." Reuters
5. Prosus invests this dividend back into new ventures, during H1 2021 only, it invested $ 589m (versus $ 374m in H1 2020). Significant investments include:
Movile ($ 158m)
letgo/OfferUp ($ 100m)
EMPG ($ 75m)
Eruditus ($ 60m)
Remitly ($ 52m)
FCG ($ 34m)
Mail.ru ($ 25m)
---
GROWTH STRATEGY
Prosus' strategy aims to support the groups' current operations while chasing fast growing markets with a repeatable investment framework. In short, it aims to replicate its Tencent investment by backing and helping develop fast growing "champions" in growing markets:
Classifieds (OLX Group, Avito, OfferUp, EMPG)
Payments and Financial Technology (PayU, ZooZ, Remitly, PaySense, Wibmo)
Food Delivery (Movile, iFood, Delivery Hero, Swiggy)
EdTech (Udemy, SimilarWeb, Codecademy, Brainly, Honor, Meesho)
Internet Platforms (Tencent, Mail.ru, emag)
These companies conduct the majority of their operations in emerging geographies:
---
SECRET RECIPE
Prosus is a $ 190B venture capital firm that gets it cash from Tencent and redistributes it to local champions. In these champions, it looks for founder-led local leaders and then provides these with the required cash, expertise and network.
Across its different sectors, it applies a Test - Invest - Scale methodology:
The Test phase is the experimentation step where it looks for founder-led companies with strong local autonomy that it can help scale
During the Invest phase, Prosus seeks to deploy capital to accelerate growth and help the company get a global reach
In the Scale phase, Prosus seeks to drive organic and inorganic growth and help the company towards profitability by providing a shared service hub, a global tech platform and additional capital
In the same spirit as venture capital firms, Prosus chases large and growing total addressable markets
Classifieds market is valued at $ 30B by 2023
Payments and fintech market is valued at $ 1.4T by 2022
Food delivery market is valued at $ 331B by 2022
---
THE MARKET
The classifieds, food delivery, auto and education technology market are growing at over 10% each year. Driven by increasing smartphone penetration, growing customer appetite and technical advances.
1. According to the Imarc Group, the online food delivery market is set to reach $ 12.7B in 2025, coming from $ 2.9B in 2019
Driven by increasing digital literacy, enhanced access to high-speed internet facilities, rising smartphone penetration, rising working population, increasing consumer expenditure capacity which are boosted by a growing customer appetite for food delivery

"In line with this, the emerging trends of the on-the-go foods and quick home delivery models, which offer convenient, ready-to-eat and cheaper food delivery options, are contributing to the market growth significantly." Imarc Group

2. According to Report Linker, the used car market in India is set to grow by 15% each year over the 2019 - 2025
The market was valued at $ 24B in 2019 and growth is driven by the fast-growing base of younger consumers, increasing disposable income (along with rapid urbanization) and growing internet penetration

"58% of millennials (between the ages of 21-37) plan to buy a car in the next 6 months, while 50% non-millennials (37+ years old) plan to do the same. Interestingly, 63% of these non-millennials plan to buy a pre-owned car in the next 6 months, and only 37% plan to buy a new car." OLX Auto Note
3. According to Google and KPMG, the classifieds market reached $ 1.2B in India, a 3-fold increase versus its 2016 levels
Driven by increasing internet penetration and growing demand for e-services classifieds such as auto-rentals, home services, job posts

"The ecosystem is ripe for the emergence of digital classifieds. Spurred by the smartphone penetration, online users are expected to grow to a whopping 650 million by 2020" Economic Times
4. According to Statista, Brazil is set to count 39m restaurant-to-consumer food delivery users by 2024, up from 16.5m in 2017 and 29m in 2019
Driven by growing customer demand for food delivery from the younger and working population

"Currently, the market is at a stage where the main players are becoming super apps, which means that in addition to food delivery, the platforms offer various services to consumers, such as drugstore product delivery, and have become a new sort of marketplace." Research And Markets
5. According to HolonIQ, the global EdTech market is set to reach $ 404B by 2025, growing by 16.3% each year and increasing 2.5 times from its 2019 levels
Driven by higher education tuition deflation, cheaper and more trustworthy alternatives to conventional education
---
TIER-1 MANAGEMENT
Bob van Dijk followed Koos Bekker and took the helm in 2014. He worked at Allegro and McKinsey & Company before joining. Key management people have deep experience in e-commerce, classifieds and finance.
He was appointed as chief executive officer of Prosus in September 2019 and of Naspers in April 2014. He joined the group as Allegro Group chief financial officer in August 2013. Bob started his career at McKinsey & Company, focusing on mergers and acquisitions, and media
Holds an MBA Hons from INSEAD and an MSc (cum laude) in econometrics from Erasmus University Rotterdam
Basil Sgourdos is financial director of Prosus and Naspers
He was appointed as the financial director of Naspers in July 2014. He joined Naspers in 1994, initially as the finance manager of the South African operations division in MultiChoice and then as chief financial officer of Naspers' investment in United Broadcasting Corporation plc. He worked for PricewaterhouseCoopers Inc. from 1989 to 1994
He is a qualified South African chartered accountant and holds a BCom from the University of the Witwatersrand and BAcc Hons from the University of South Africa
Pat Kolek is the chief operating officer of Prosus and Naspers
Has more than 20 years' experience in executing business growth and development strategies for hyper growth organisations. Prior to Naspers, Pat spent 10 years at eBay, most recently as VP and CFO of eBay International and previously as the COO of eBay Classifieds
Holds a bachelor's degree in commerce from Santa Clara University and is a certified public accountant
---
TAKE A BREATH
So… This is a lot of information. Let's summarise:
Prosus made an early and extremely successful bet on Tencent back in 2001. Today, its 31% stake in Tencent is worth $ 270B
The company uses its Tencent dividends to invest in fast growing companies in large and emerging sectors
The company thus acts as a venture capital firm, deploying its battle-tested Test-Invest-Scale methodology to help founder-led companies grow and become profitable
Using this methodology, Prosus has turned local champions into global leaders in food delivery, EdTech, financial technology and classifieds in Asia, South America and Europe
---
FINANCIAL CHECK
Revenues increased 32% year-on-year to $ 12.7B in HY 2021 (HY 2020: $ 9.9B), with strong growth across food delivery, etail and education
141% year-on-year revenue growth in food delivery
70% year-on-year revenue growth in etail
54% year-on-year revenue growth in edtech

"The pandemic has accelerated activity in the consumer internet space, benefitting our businesses. We have seen particularly strong growth in food delivery, online payments, etail, and edtech and, throughout the period" Bob van Dijk, HY 2021

Trading profit grew by 43% year-on-year to $ 2.7B (HY 2020: $ 1.9B)
Core headline earnings increased 29% year-on-year to $ 2.2B (HY 2020: $ 1.7B) driven by improved profitability from e-commerce units and the growing contribution from Tencent
Free cash flow jumped from $ 14m to $ 370m driven by lower food losses, strong working-capital management, and $ 81m increase in Tencent dividend
---
BENCHMARK'S TAKE
The Good
Prosus is a holding company focussed on high growth sectors in emerging geographies
It scouts for founder-led companies with strong autonomy and then enables these to scale by providing funding, access to a network and shared services
Prosus invests in markets often overlooked by global tech giants, providing a unique opportunity to invest in fast growing markets such as Brazil and India
Its activities are funded for a large part by it's Tencent stake (31% of Tencent) and the dividends it gets from it
There is a significant discount between Prosus' enterprise value of $ 190B and its $ 270B stake in Tencent, potentially implying that investors get access to Prosus' series high growth of investments in emerging markets at a steep discount
This could change as these, for now relatively small investments, grow into mature leaders in their markets
Another catalyst could be provided by the IPO of a series of Prosus' investments or a share buyback
The Bad
Investors willing to invest in Tencent may be better off buying shares of Tencent directly as it would offer increased liquidity and provide a direct access to Tencent's dividends
---
Disclaimer
Please note that this article does not constitute investment advice in any form. This article is not a research report and is not intended to serve as the basis for any investment decision. All investments involve risk and the past performance of a security or financial product does not guarantee future returns. Investors have to conduct their own research before conducting any transaction. There is always the risk of losing parts or all of your money when you invest in securities or other financial products.