User Growth Is Sluggish, Even In The Midst Of A Pandemic
Skillz provides a platform that turns any mobile game on iOS and Android into one you can play with other players (friends and strangers).
The company was founded in 2012 by Andrew Paradise and Casey Chafkin
It went public in late 2020 through a merger (SPAC) with Flying Eagle Acquisition Corporation
---
THE NUMBERS
The company managed to grow its sales by 92% year-on-year all while expanding its gross margins. This was done by converting more gamers into paying users: paying monthly active users reached 467,000 (from 258,000 a year earlier) while its total user pool did not grow significantly.
Revenue grew to $ 83.7m during the first quarter of 2021, up 92% over the prior year
Gross profit grew to $ 79.4m during the first quarter of 2021, up 95% over the prior year
Gross margin was 95% during the first quarter of 2021, 100 basis points higher than the prior year
Net loss was $ 53.6m during the first quarter of 2021, compared with $ 15.5m in the prior year
Cash on balance sheet of $ 613m and no debt at the end of first quarter 2021
The Company is increasing 2021 revenue guidance to $ 375m, which equates to 63% year-over-year growth
In its earnings release, the company highlighted the following:
"Paying MAU reached 0.467 million with a 17% Paying to Playing MAU ratio which is 8x higher than the mobile gaming industry average and highlights the platform's powerful competitive advantage over in-app purchases." Q1 2021 Results
---
DEMANDING VALUATION
In February 2021, we closed our stake in Skillz out of valuations concerns. The stock was priced for perfection and required flawless user growth and monetization to sustain itself.
Since then, the stock has deflated from $ 38 a share to a little under $ 17, with a low at around $ 12.5.
We are only looking to get back into Skillz if we see a clear path to profitability and sustained sales growth.
---
STAGNATING MONTHLY ACTIVE USERS
A first element we are looking at is monthly active user (MAU) growth. We believe this metric is important as it shows the total number of users the company can try to convert into paying users in an economically sensible way.
MAU growth is close to flat year-on-year as growth mainly comes from a growing paying user proportion. In the previous quarter, growth came from a growing Average Revenue Per User
Low MAU growth is a concern, certainly as the pandemic-boost might fade away as users spend more time offline in the coming months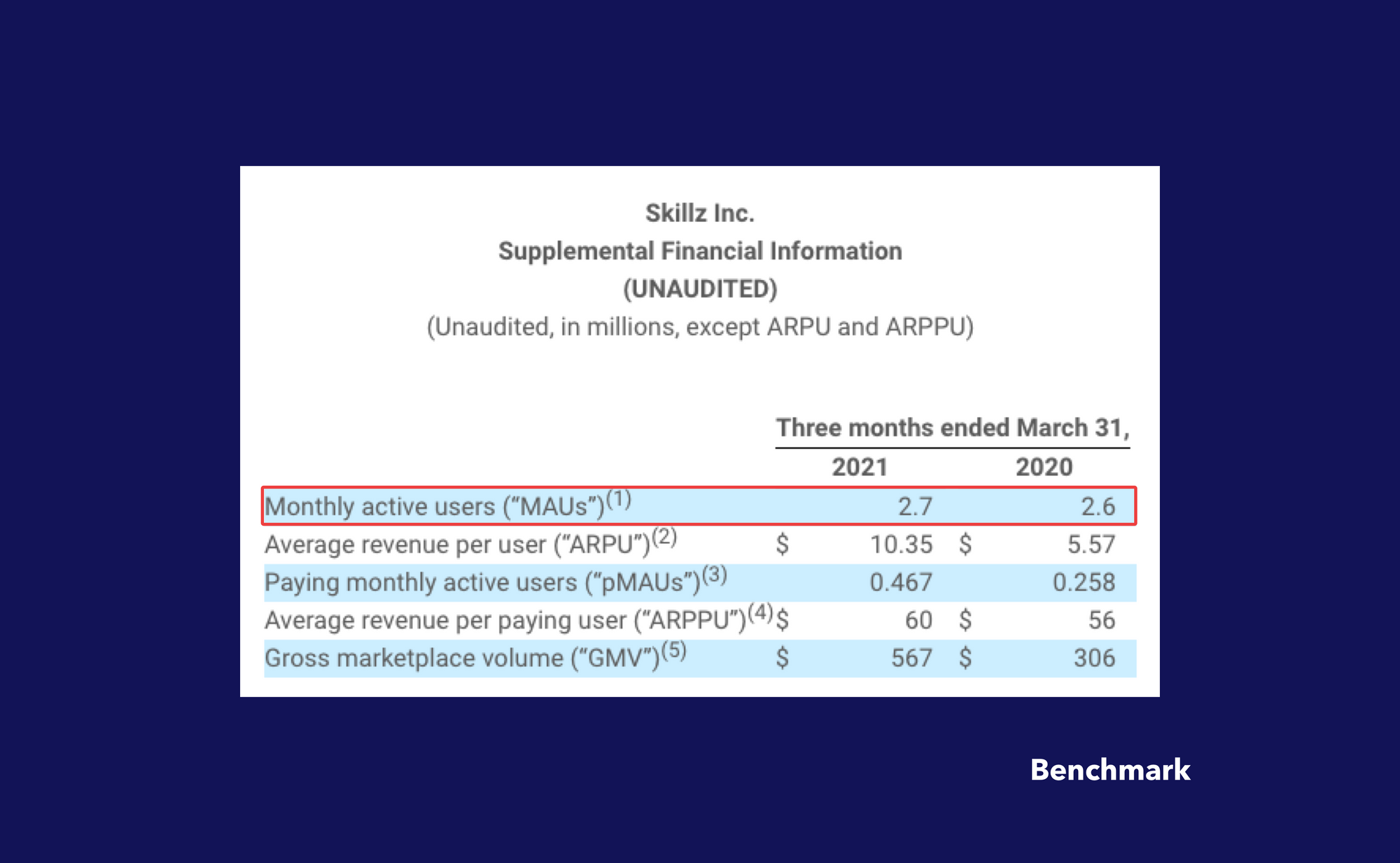 ---
HIGH SALES AND MARKETING EXPENSES
Looking further, Skillz spent $ 96.3m in sales and marketing for a revenue of $ 83.7m. In other words, Skillz spent $ 1.15 per $ 1 of revenue. Despite this significant marketing spend, the company did not manage to grow its total user pool.
Sales and marketing expenses rose of 106% year-on-year. These were spent on converting gamers into paying users as the total user count stagnated
In order to grow its total user pool again, Skillz will have to further increase its total marketing spend. Significantly pressuring margins going forward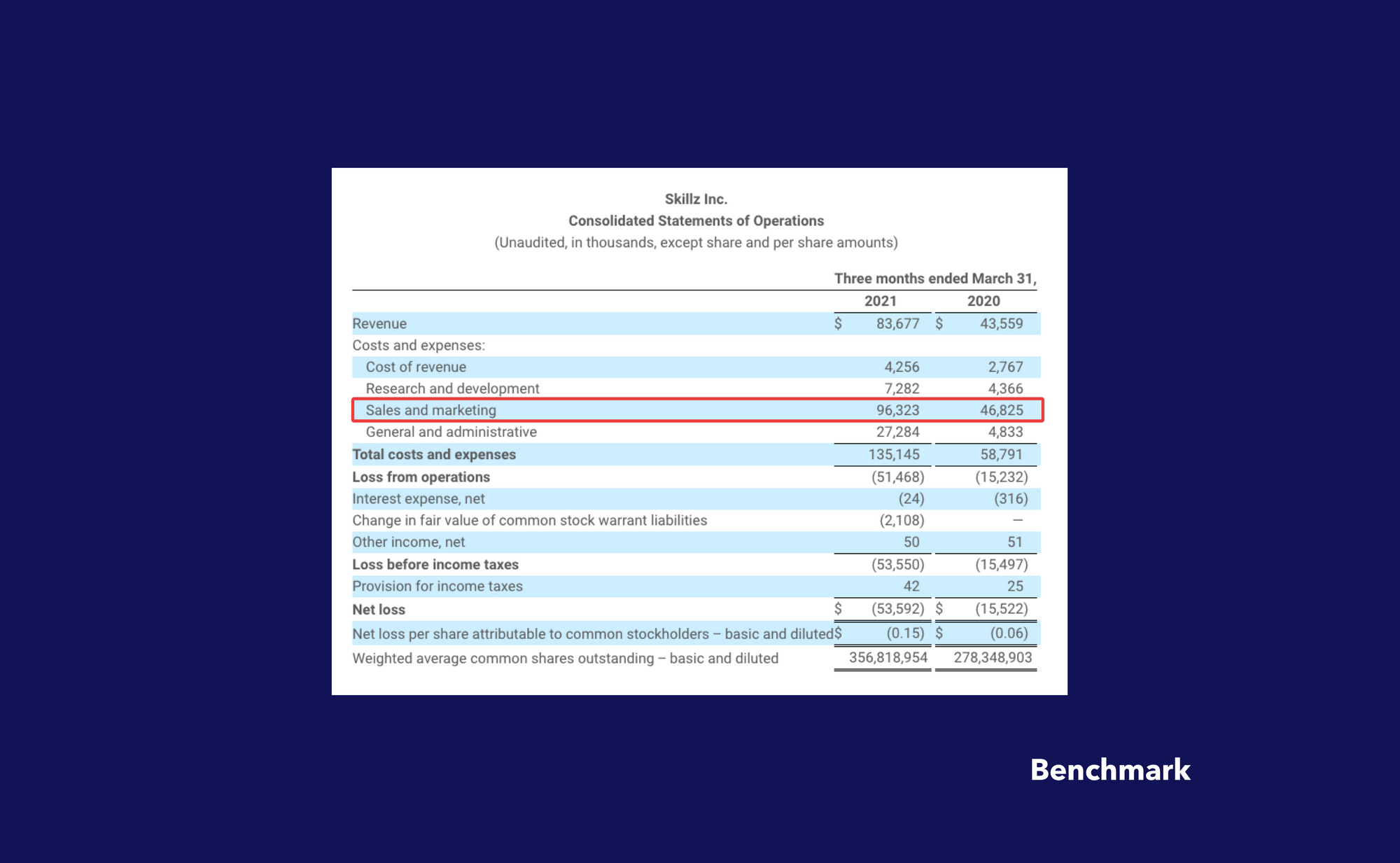 ---
BENCHMARK'S TAKE
In the fourth quarter of 2020, Skillz managed to expand its sales by doubling the Average Revenue Per User
The company is now converting more gamers to paying users and managed to grow its sales by 92% year-on-year
Growth is sustained by considerable marketing expenses (115% of revenue)
Despite these large marketing expenses, the company doesn't manage to grow its monthly active users. A problem that it has managed to circumvent for now by increasing its ARPU and paying users proportion
In the longer run, Skillz might have to significantly drive its marketing expenses to maintain its growth trajectory, pressuring profitability
The re-opening might also decrease the demand for online games as users are able to spend more time offline
---
Disclaimer
Please note that this article does not constitute investment advice in any form. This article is not a research report and is not intended to serve as the basis for any investment decision. All investments involve risk and the past performance of a security or financial product does not guarantee future returns. Investors have to conduct their own research before conducting any transaction. There is always the risk of losing parts or all of your money when you invest in securities or other financial products.
Credits
Photo by Erik Mclean on Unsplash.