ZhongAn is a Chinese online-only insurance company that was founded in 2013 and is headquartered in Shanghai. The company is backed by Jack Ma (Alibaba), Pony Ma (Tencent) and Peter Ma (Ping An Insurance).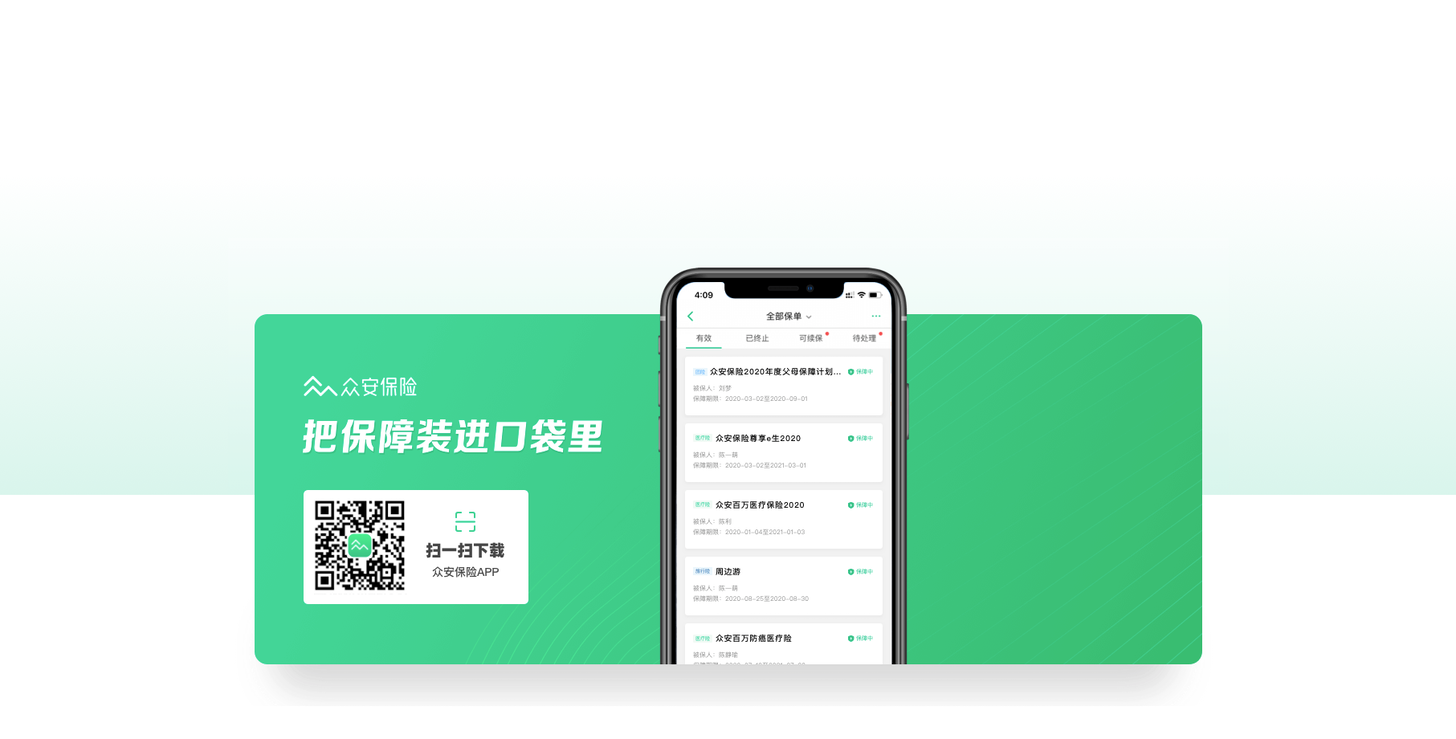 ---
INSURANCE PRODUCTS
ZhongAn started by selling a shipping return insurance to Alibaba and Tmall merchants. In simple terms, the insurance reimbursed the shipping costs on returned products. It then quickly expanded to add health, travel and auto insurance.
The emergence of e-commerce helped drive ZhongAn sales as it managed to sell over 100m shipping return policies for China's Single's Day back in 2015
The company has expanded into neighbouring areas such as health, consumer finance, auto and travel
It uses a combination of machine learning, cloud computing and big data to reduce its combined ratio
ZhongAn is also known for creating and selling unusual insurance products aimed at the millennial market, which now represent the majority of its customers.

"During the 2014 World Cup, it offered "hooligan insurance" to fans for 45 cents (35p), covering them for medical costs from skirmishes with fans"
These are attracted by ZhongAn's near-instant claims process and targeted product offering (e-commerce, travel, auto insurance).

"Zhong An appeals largely to the millennial market due to its near-instant claims process, with 60% of the insurer's recorded customers aged between 25 and 30, as well as being mostly city-dwellers" Peter Littlejohns for NSInsurance
Seeking to expand its reach, the company later branched out into banking and set up the ZA Bank in Hong Kong. A fully virtual bank that offers its own credit card and insurance.
---
TECHNOLOGY EXPORTS
ZhongAn's extensive use of machine learning enables it to achieve automation rates of 99% for policies underwriting and 95% for claim settlement. This then enables it to sell its technology to corporate clients in need of digitisation.

"Also, 97% of its communications are done via ChatBot, with which it can serve more than 300,000 users simultaneously on any given day, it is called ZhongAn Answer and works as a virtual advisor for health ecosystems, lifestyle consumption, consumer finance and whose response accuracy rate reaches an impressive 94%" J. Mauricio Ballivian
The company sells its technology to third parties in the form of "technology exports".
In the first half of 2020, it sold its technology to over 60 customers across China and broader Southeast Asia for RMB 120m in sales ($ 19m)
Customers include Sompo (Japan) and Income (Singapore)

"Their insurance technology has been so successful that in 2018 they have already started exporting their technology products to facilitate the digitization of the insurance value chain"

"Insurance companies can improve their profitability and operational efficiency by connecting new channels in a week, launching new products in 1 to 3 days, and processing more than 2 billion policies per week" J. Mauricio Ballivian
---
PARTNERSHIPS
The company's insurance products are integrated into the websites of more than 300 partners. Through these partnerships, the company gets data and insights on customers (customer demographics, buying patterns, browsing history, personal data, transactional data, credit report, payment history) and then builds products specifically for its partner.
Creating a positive outcome for both as the partner and ZhongAn are able to increase their sales
This enables ZhongAn to significantly increase the data it processes, further improve its technology and cut down its loss ratio

"Insurance is a data game. In the future, IoT, everything within telematics and even wearables generate huge piles of data. The question is if you use this data to really generate tailor-made solutions for your new customers." Bill Song, COO of ZhongAn for Accenture

Leveraging platform-specific data, ZhongAn is able to tailor its solutions to a specific platform. E.g. an insurance offered through Ctrip (a travel platform in China) will offer an insurance product that takes into account the platform's customers profiles

"individuals who purchase flight tickets on Ctrip are directed to purchase various insurance options including Zhong An's flight accident policy, which can be purchased in a matter of seconds" CBInsights
---
JOINT VENTURES
The company is setting a foot in Southeast Asia though a partnership with Grab, the region's top ride-hailing firm. Through this joint venture, both companies plan to offer insurance products to its customer base (e.g. drivers).
This helps Grab turn itself into the region's "SuperApp", mimicking the success of WeChat in China
ZhongAn on its part, gets access to a wide array of local consumer data
By H1 2020, the Grab ecosystem had already issued over 12m policies

"[ZhongAn] will bring technical assets to build the platform and insight into Internet ecosystems to the JV. Grab will launch the digital insurance platform through its mobile app and tap its wide userbase and unparalleled customer insights to deliver customized insurance products to millions of users" Grab Press Statement
In 2018, ZhongAn also set up a joint venture with Softbank. The Japanese conglomerate invested $ 100m and will own 51% of the venture. Through this partnership, Softbank will aim to sell ZhongAn's technology to financial and healthcare firms in Asia-Pacific.
---
THE MARKET
The online insurance market is set to grow by over 40% each year over the 2019 - 2024 period as insurance penetration increases, China's middle class starts building wealth and the need for digitisation pushes conventional insurance players online.
1. According to Mordor Intelligence, the online insurance market in China is set to grow by 41% each year over the 2019 - 2024 period
Driven by the growing insurance penetration, the rise in wealth, increase in insurable assets and services and shift to online services

"Insurance companies will have to move toward digitalization to improve efficiencies, provide better customer experiences and deal with the disruptive challenges from technology giants that are increasingly involved in the insurance market." EY
2. According to the Boston Consulting Group (BCG), China's household wealth is set to increase by about $ 14T by 2023 and reach $ 35T
Driven by the increasing liberalisation of the Chinese economy and growing overall wealth as the economy pivots from an industry to a service-based economy

"Chinese policymakers have accelerated moves to open wealth and asset management markets to overseas players." By Qin Xu et Al.
3. According to Bain & Company, digital payments are set to grow by 10% each year over the 2019 - 2025 period in Southeast Asia as Gross Transaction Value (GTV) grows from $ 600B to $ 1.1T
Driven by increasing smartphone penetration across the region and rising wealth levels, leading to a decreasing share of unbanked individuals and an increase in digital payments

"More than 7 out of 10 adults in Southeast Asia are either "underbanked"—they have no access to credit cards or have no long-term savings product" Florian Hoppe et Al.
4. According to KPMG, only 27% of those living in Southeast Asia have a bank account, translating into 438m unbanked individuals
Driven by limited infrastructure which restrains access to banking services
This may change as over 80% of the population access the internet daily through their smartphone
And smartphone penetration is rising fast. E.g. smartphone penetration stood at29% in 2015 in Indonesia and is projected to reach 90% by 2025

"This translates to opportunity – especially for fintech companies. Traditional banking and finance firms are starting to take note of the potential arising from incorporating technology into their business. With a tremendous injection of innovation from tech-heavy Chinese giants like Alibaba and Tencent" The Asean Post
---
EXPERIENCED MANAGEMENT
Xing Jian is the CEO of ZhongAn and was previously in charge at Alibaba and Zhejiang Rongxin, a company controlled by Jack Ma. Gaofeng Li is the CFO and has experience in technology and insurance.
Xing Jiang is the General Manager and CEO of ZhongAn
Responsible for the health ecosystem, e-commerce ecosystem and insurance businesses. He was a senior director at Alibaba from January 2011 to March 2012. He was also in charge of the insurance division at Zhejiang Rongxin Internet Technology from December 2013 to March 2014
Obtained his bachelor's degree in Computer and Applications from the Hunan Finance and Economics Institute in July 1999
Gaofeng Li is the Vice General Manager, Chief Financial Officer and Chief Investment Officer of ZhongAn
He is primarily responsible for overseeing Investor Relations Department, Asset Management department, Administration Department, the Center of Operation Management. Served as the Vice General Manager of the Marketing Services Center at Cinda Securities and served as the Vice General Manager and secretary of the board at Sun Life Everbright Asset Management
Obtained a bachelor's degree in Computer Science and Technology from Tianjin University in June 2000
Yongbo Zhang is the Vice General Manager, Chief Risk Officer, Compliance Chief and Chief Legal Officer of ZhongAn
He is primarily responsible for overseeing compliance and legal affairs, as well as securities affairs and risk management. He has been an accredited lawyer and was involved in corporate governance and compliance matters at Manulife-Sinochem Life and Yongcheng Property Insurance
Obtained a master's degree in International Economic Law from the East China University of Political Science and Law
---
TAKE A BREATH
So… This is a lot of information. Let's summarise:
ZhongAn is an online-only insurance player in China backed by local giants (Tencent, Alibaba and Ping An)
It is able to automate over 90% of its claims and processes while reaching a 94% accuracy rate
This technological advantage enables it to settle claims quickly and efficiently all while reselling its technology to third parties
The company grows mainly through partnerships and these provide masses of consumer data in an instant
ZhongAn is expanding in Southeast Asia through a partnership with Grab, Southeast Asia's super app
---
FINANCIAL CHECK
In H1 2020, Gross Written Premiums increased by 14.7% year-on-year to RMB 6,766m ($ 1,047m)
GWP generated from the health ecosystem grew by 115.6%, as the outbreak of COVID-19 significantly raised consumer awareness for health insurance protection, and reinforced consumers' willingness to shift their insurance purchase from offline to online
Rapid development of the ecommerce industry during the pandemic also led to a 40.4% increase in GWP from the lifestyle consumption ecosystem
Operating performance of the underwriting business improved, benefitting from the optimization of business structure and improving underwriting quality across ecosystems
In H1 2020, the combined ratio improved by 4.8 percentage points to 103.5%
The loss ratio was 56.6%, representing a year-on-year decrease of 7.3 percentage points
Unannualized total investment yield reached 3.6%
During the reporting period, the insurance segment achieved a profit of RMB 622m, representing an increase of 94.6% year-on-year
---
BENCHMARK'S TAKE
The Good
ZhongAn is growing at a fast clip as it provides the insurance tools a new generation of Chinese consumers require
It mainly differentiates itself with a fast, convenient and fully digital insurance experience tailored to its customer's needs (e-commerce, auto, travel), attracting younger individuals to its platform
The insurance market is set to boom in China and Southeast Asia as wealth is being built up and the amount of insurable assets increases dramatically
ZhongAn is able to scale its operations through partnerships with leading local apps and joint ventures, giving it instant access to masses of consumer data
The Bad
Regulation may be tightened and the financial technology scene may come under scrutiny as China tries to retain the reigns of its economy
ZhongAn's connections to Alibaba and Ant Financial may hamper its future expansion
---
Disclaimer
Please note that this article does not constitute investment advice in any form. This article is not a research report and is not intended to serve as the basis for any investment decision. All investments involve risk and the past performance of a security or financial product does not guarantee future returns. Investors have to conduct their own research before conducting any transaction. There is always the risk of losing parts or all of your money when you invest in securities or other financial products.