Opendoor is an online real estate company founded in 2014 by Keith Rabois, Eric Wu, Ian Wong and JD Ross. In 2018, it raised $ 400m from Softbank Group and $ 300m from General Atlantic in 2019.
In 2014, the startup advertised itself as:
"work with sellers directly to purchase home[s],"
"work with local partners to rehab, maintain, and improve our portfolio of properties,"
"partner with local brokers and Realtors to market, list on [the multiple listing service], and resell to retail buyers and investors"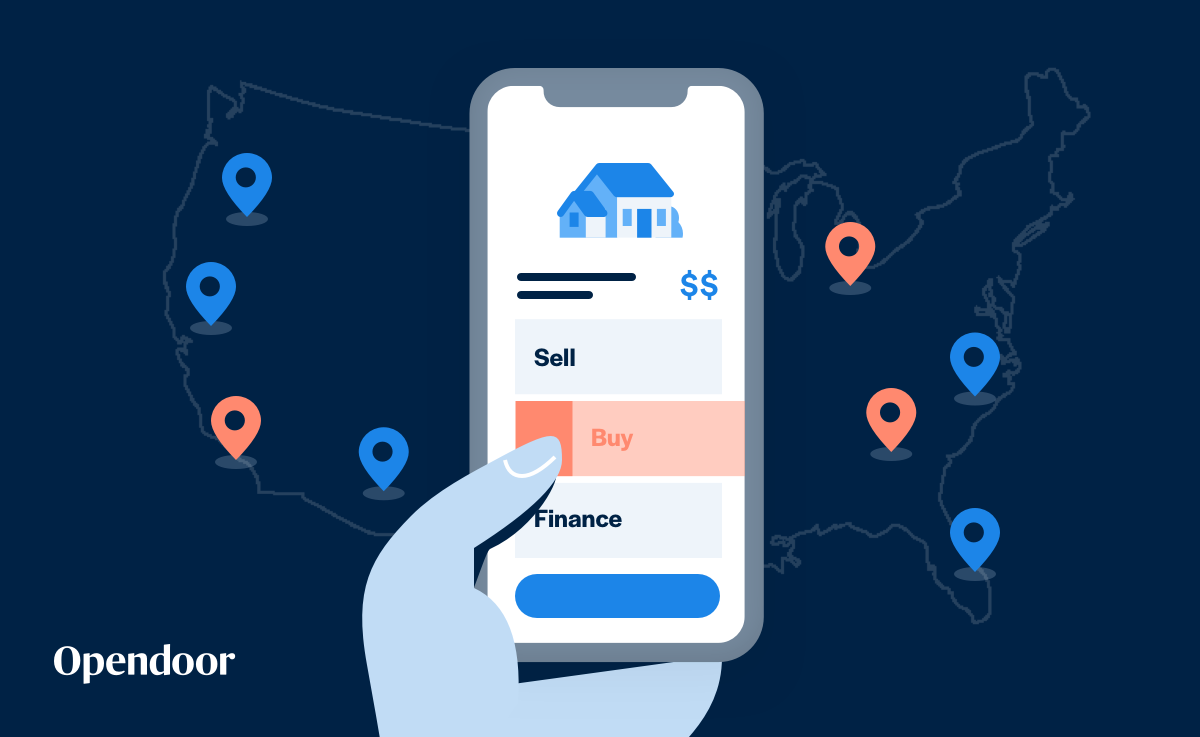 ---
BUY, REFURBISH, SELL
Opendoor has evolved into a digital, pure play "instant buying" (iBuying) real estate company. Seller submit their property's details and Opendoor instantly makes an as-is cash offer. Opendoor then refurbishes the property and relists it.
Today, customers can sell their property to Opendoor, list it with Opendoor, buy from Opendoor and get financing.
Sellers share a video walkthrough and upload some of the property's details
Opendoor makes an instant cash offer for the property "as-is"
Sellers can decide when to move out in order to avoid paying double rent / mortgages
Opendoor advances up to $ 10k for repairs (interest-free)
Sellers pay around 5% in fees for selling with Opendoor
Local experts assist sellers during the sale
Prospective buyers browse through open listings and can visit houses with tour assistants (unassisted tours are also possible in certain localities)
The user makes an offer and easily submits key information required to close the sale through the Opendoor app or by email
In certain localities, buyers can "return" their home to Opendoor under certain conditions
Buyers don't have to pay for application origination, underwriting or processing fees and down payment comes in at minimum 3%
A mortgage consultant helps home buyers during the process
Buyers can now refinance their home and get approved in as little as 15 days
These features are packaged into an intuitive and easy-to-use interface. It provides the trust home buyers and sellers need while providing a quick and convenient way to deal with real estate.
---
DATA AND UX-DRIVEN ADVANTAGE
Opendoor is competing for homes with established real estate agents. It also fights for leadership with Zillow and Redfin. Its competitive advantage is built on data-driven models that define the price at which Opendoor should buy and sell a property.
These models are driven by:
25m home level data inputs
145 unique features per inspection
175,000 on-site inspections
Improvements in its model's accuracy enable Opendoor to make 63% of its offers automatically in Q1 2020 versus 41% in Q1 2018. And these improvements are possible thanks to massive amounts of data:

"We look at every single transaction that's been conducted in any of our markets since at least when transactions are recorded, which normally goes back 10 years."

"So we have at least the last 10 years of data of all the transactions that have happened along with every single parcel that exists in these markets" Ian Wong by Kevin McAllister for Protocol
---
BANKING MEETS SILICON VALLEY
Opendoor is a founder-led company as Eric Wu is CEO and Ian Wong serves as CTO. Management has deep experience from TIER-1 investment and management consulting firms and leading tech companies.
Here is a closer look at Opendoor's key people:
Eric Wu
Co-founder and Chief Executive Officer at Opendoor
Before Opendoor, founded Movity.com, a location data analytics company that was acquired by Trulia.com in 2011
Graduated from the University of Arizona with a bachelor of science in Economics
Ian Wong
Co-founder and Chief Technology Officer who leads Opendoor's team of engineers and data scientists
Previously, built machine learning applications at Square and Prismatic
Earned degrees in Electrical Engineering and Statistics from Stanford University
Carrie Wheeler
Chief Financial Officer and independent board member at Opendoor
Previously, spent 21 years at TPG as Partner and Head of Retail and Consumer Investing and started as an analyst at Goldman Sachs
Earned her Bachelor of Commerce (with Honors) from Queen's University
Megan Meyer Toolson
Head of Operations at Opendoor
Previously, spent almost 2 years at Bain Capital and over 2 years at McKinsey & Company as a Business Analyst
Earned her MBA from Stanford Graduate School of Business
An experienced management team and a strong product, driven by data and changing the customer experience.
---
SIZING THE OPPORTUNITY
The whole Opendoor story started when Peter Thiel (co-founder of Palantir and PayPal) suggested to Keith Rabois:

"[…]Peter Thiel suggested that I come up with an idea to innovate in residential real estate, It's the largest part of the economy unaffected by the Internet. And that was definitely true then" Keith Rabois by Jordan Novet for Venture Beat
The largest part of the economy unaffected by the internet, mainly run by sales agents, here are the numbers for the National Association of Realtors (NAR):
There a 2m active real estate agents in the USA
1.36m of those are Realtors - meaning that they have a real estate license and are members of the NAR
But what do home buyers do first?
Only 12% of the 22 to 29 year olds contacted a real estate agent
While over 20% of the +55 year olds contacted a real estate agent
Over 40% of 22 to 54 year olds looked first for a property online
Where did buyers found the home they purchased?
62% of the 22 to 29 year olds found it online
While over 35% of the +55 year olds found it through a real estate agent
Property hunting is moving online, are real estate firms also making the switch?
According to the NAR, 46% of the Real Estate firms cited keeping up with technology as one of the biggest challenges for the next 2 years
And home buyers are better informed:
Buyers now have more data at hand (online pictures, listing information and history)
Buyers now review properties online and solicit the help of a real estate agent for the documentation and price negotiation
How could the real estate agents' role evolve?

"In the near future, buyers will look to real estate agents as strategic experts to help make sense of all this data" by Reno Heine for Forbes
This looks very much aligned with what Opendoor proposes
Easily browse properties online
Visit a home with a tour assistant or on your own
Solicit the help of an agent for financing matters / documentation needs
---
WHY RELY ON IBUYERS?
Not everyone is optimistic about these "instant buyers". A report by Collateral Analytics has found that iBuyers on average charge higher fees than traditional agents.
Driven by the need for these iBuyers to compensate for liquidity risks and carrying costs
The report ends on a more favourable tone:

"For some sellers, needing to move or requiring quick extraction of equity, this is certainly worthwhile"
Well, this is what Opendoor is targeting as their CTO explained to Protocol:

"What we've seen is that customers not only crave convenience now, […] They also really want assurance that [the process] is safe" Ian Wong by Kevin McAllister for Protocol
Another study, by Mike DelPrete, focussed on Zillow and Opendoor. It found that these iBuyers almost paid fair value for the property they bought.

"The evidence in this research study strongly suggests that iBuyers are offering close to fair market value for the homes they purchase" Mike DelPrete by Jeff Andrew for Curbed
---
RECESSION WATCH
As Opendoor is offering close to fair value, isn't it taking on too much risk? What if the market collapses?
Home prices tend to decrease in a downturn. An unexpected downturn that was not forecasted by Opendoor's models could have a considerable impact

"[…] bear significant risks if prices decline. A downturn in home prices, not forecast by the iBuyer market analysts could be devastating as they ramp up their business platforms" From Collateral Analytics
Opendoor already went through a downturn:
---
COMPETITVE MARKET
The iBuyer market is competitive, here are some players:
Zillow Offers
RedfinNow
Knock
Entera
Offerpad
We Buy Ugly Houses
Houzeo
The leading players (Zillow, Redfin, Opendoor) have similar offerings. A competitive edge might be acquired through improved pricing models.
But in the long run, this might end in a "fees"-war between the leading players
Pressuring their (already low) margins
---
TAKE A BREATH
So… This is a lot of information. Let's summarise:
Opendoor is a pure play and fully digital iBuyer. It instantly buys and sells properties and provides financing options
The real estate market is moving online as the younger demographics start looking for homes online and often find the home they purchased online
Opendoor and fellow technology-first real estate challengers compete with data, machine learning models and better customer interface
In order to gain customers, iBuyers often pay fair value for homes, pressuring their margins for now
---
FINANCIAL CHECK
Note: period is 9 months ended September 30
Total revenue decreased by 34% year over year to $ 2.3B in 2020 down from $ 3.5B in the previous period
Opendoor stopped buying homes during the pandemic
Sales reached $ 4.7B in 2019 (full year), up 159% from $ 1.8B in 2018
Sales grew 157% from $ 711m over the 2017 to 2018 period
Gross margins stood at 7.8% in 2020 up from 6.5% in the previous period

"Opendoor thinks it can generate $458 million in "contribution profit" by 2023, or 4.7% of revenue. That's still a pretty thin margin" by Chris Bryant for Bloomberg

Operating expenses decreased 26% to $ 301m from $ 409m
Net loss reached $ 119m down from a loss of $ 247m a year earlier
Opendoor's current assets stood at $ 923m versus current liabilities of $ 179m
Opendoor got about $ 1B in cash following the SPAC merger
---
VALUATION CHECK
Opendoor has Gross Margins of 7% and makes around 2 to 3% per home sold. It can be compared to Vroom and Carvana's business models of low margins and high volumes.
Opendoor and Carvana are providing a better customer experience, a platform consumers can trust and convenience
These players don't need years of experience to become competitive as data on the auto and housing market is relatively easier to find
Both companies address large markets that have not been digitised yet
But are considerably pressured during downturns.
The housing and auto market face immense difficulties during downturns
Auto dealers have to limit their inventory during the recession but have enough car to sell when to economy kicks back
iBuyers (such as Opendoor) have to pause home buying and try to sell current inventory at minimal loss
On Valuation
Opendoor is now worth $ 12.3B on 2020 (run rate) sales of $ 5B. Despite Opendoor's attractive story, the long-term potential and current valuation don't make perfectly sense.
We can view Opendoor's sales as "Gross Sales" and its Gross Profit as "Net Revenue". Similar to Uber and other commission-based businesses.
It currently has a Price To Net Revenue of around 7.5
Opendoor could generate $ 5B in sales this year and has gross margins (commission) of around 7% so it could get $ 350m in Net Revenue
At today's market cap of $ 12.3B, this means that its Price To Net Revenue is at around 35
If sales double to $ 10B and gross margins increase to 10% this would translate into $ 1B in Net Revenue
At a multiple of 12, this would translate into a market cap of $ 12B
---
BENCHMARK'S TAKE
The Good
The real estate market is digitising as a new generation of buyers favour online tools
These buyers look for a more convenient, trustworthy and easy way to buy and sell their house
Opendoor's refreshed user interface and customer experience attract customers in droves as it managed to grow sales at +150% over the 2019 to 2017 period
Opendoor is a founder-led company and management has as pristine track record
Despite the recent downturn in sales, Opendoor managed to safeguard its financial position and rebound post-COVID
The Bad
The iBuyers market is competitive and strongly correlated to the state of the broader economy
Margins are thin and competition might be based on the iBuyers' fees in the future as the data-advantage might wear out
Based on Opendoor's potential contribution margins and projected revenue, the risk / reward ratio is less attractive for now
---
Disclaimer
Please note that this article does not constitute investment advice in any form. This article is not a research report and is not intended to serve as the basis for any investment decision. All investments involve risk and the past performance of a security or financial product does not guarantee future returns. Investors have to conduct their own research before conducting any transaction. There is always the risk of losing parts or all of your money when you invest in securities or other financial products.