Restaurant Brands International Inc. (RBI) is one of the world's largest fast-food restaurant companies with more than $35 billion in annual system sales and over 29,000 restaurants in more than 100 countries. RBI owns four Quick-Service-Restaurant (QSR) brands: Burger King, Tim Hortons, Popeyes and Firehouse Subs.
The foundation of RBI was laid in 2010, when 3G Capital purchased Burger King for $4 billion
In April 2012, the SPAC Justice Holdings paid 3G Capital $1.4 billion in cash to acquire a 29% share in Burger King
Bill Ackman, through Pershing Square, also served as co-sponsor of Justice Holdings with a $458 million investment alongside Nicolas Berggruen and Martin Franklin
RBI was founded in 2014 as a result of the $12.5 billion merger of the Canadian coffee shop and restaurant brand Tim Hortons and Burger King
In 2017, the company acquired Popeyes Louisiana Kitchen for $1.8 billion
In November 2021, RBI acquired Firehouse Subs for $1 billion

---
4 STRONG AND INFLUENTIAL BRANDS
Burger King: Founded in 1954, Burger King is the world's second largest fast food hamburger restaurant chain as measured by total number of restaurants. As of December 31, 2021, RBI owned or franchised a total of 19,247 Burger King restaurants in more than 100 countries
Tim Hortons: Founded in 1964, Tim Hortons is one of the largest donut, coffee and tea restaurant chains in North America and the largest in Canada as measured by total number of restaurants. As of December 31, 2021, RBI owned or franchised a total of 5,291 Tim Hortons restaurants
Popeyes: Founded in 1972, Popeyes is the world's second largest quick-service chicken concept as measured by total number of restaurants. As of December 31, 2021, RBI owned or franchised a total of 3,705 Popeyes restaurants
Firehouse Subs: Founded in 1994, Firehouse Subs is a brand built on decades of culture rooted in public service and a leading player in the QSR sandwich category in North America. As of December 31, 2021, RBI owned or franchised a total of 1,213 Firehouse Subs restaurants
---
FRANCHISING, A RECEPEE FOR SUCCESS
RBI's QSR franchised business model is a high-quality, capital-light, growing annuity generating high-margin brand royalty fees from its four leading brands: Burger King, Tim Hortons, Popeyes, and Firehouse Subs.
To maintain their distinctive traits, brands need their own product development and marketing teams. Therefore, owning many QSR brands has limited synergies as Bill Ackman noted in 2005. In order to take advantage of 3G's specialized financial knowledge and connections with investors throughout the globe, RBI's main focus point has been decentralizing branding and operations while centralizing new restaurant development.
With 3G as a shareholder, RBI's expansion strategy has been focused on entering untapped markets and use 3G's financial know-how and global connections to expand quickly
The expansion of RBI is especially beneficial because franchisees, not RBI, are the ones who invest money in brand-new restaurants, the result is capital-light growth
By 2030, RBI aims to operate over 40,000 restaurants worldwide, up from 29,000 in 2021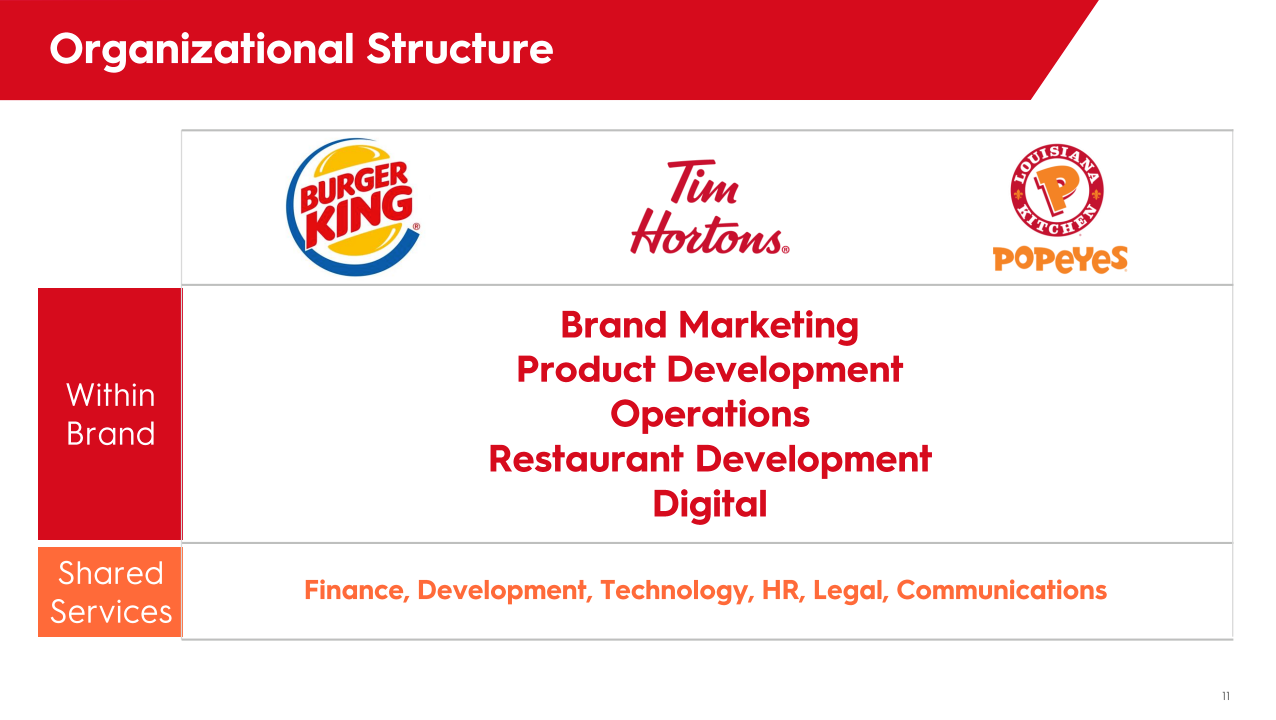 ---
AN INTERNATIONAL BOOM
In 2019, executives from RBI shared their ambition to expand to 40,000 restaurants by 2030. And the objective is still in place despite a global pandemic that affected the foodservice sector over the past two years.
The company, led by Burger King, is optimistic about its growth prospects, which is "still just beginning to scratch the surface." according to David C. Shear, president of international operations at RBI. Shear also stated the following:
"We have big gaps in emerging markets like Brazil, India, Indonesia, where we can clearly continue to grow for a long time [...]. But also, what's exciting about Burger King is that even in markets that are usually considered mature for other businesses, we have a big growth runway. So places like Japan, France, Spain, these are three of our biggest growing markets around the world and will continue to be into the foreseeable future."
RBI sees strong growth opportunities with Popeyes restaurants and expects the brand to become a "very meaningful growth driver" in the near term.
"I think that in the last 12 months, we've signed deals in a lot of major markets, including France, including Korea, India, Saudi Arabia, the UK, Romania, and I might be leaving a couple off [...]. But the total commitments are — of just those deals there are more than 1,700 restaurants in the next 10 years.", said Shear
RBI's experience in bringing its brands international will help the company with having successful new country entries. RBI has experience in finding the right local partners, sufficiently capitalized and with growth ambitions, and tailoring its offering to the new markets.
---
FIERCE COMPETITION AND CHALLENGES IN THE U.S.
The U.S. is RBI's largest market but its sales have been lagging behind peers McDonalds and Wendy's leading the company to announce a turnaround plan in September 2022. Over the next two years, RBI will invest $400 million in advertising and restaurant renovations.
According to RBI, restaurants that have undergone renovations typically experience a 12% rise in sales within their first year and eventually outperform older restaurants
Additionally, RBI will invest $120 million in advertising over the following two years, increasing its U.S. budget by 30%
"We might see remodels start to hit the market mid-2023 and going forward. It should really be a gradual ramp of the business over the course of the couple of years," Jose Cil told CNBC in an interview
---
THE MARKET
At a projected CAGR of 6% over the 2021-2028 period, the global fast food market is expected to increase from $ 975 billion in 2021 to $ 1,475 billion by 2028.
The market has been constantly growing as a result of rising demand for ready-meals, snacks, and convenience foods
This rise has mainly been driven by the shift in consumer lifestyles and growing preference for convenience foods
Rapid industrialization and urbanization are additional factors influencing the expansion of the global fast food market as is rising disposable income
Fast food restaurants have proven resilient to the pandemic and resulting stay-at-home orders. The pandemic led to a rise in demand for the sector as customers increased their off-premise purchases through takeout and delivery.
90% of quick-service operators adjusted their operations to the pandemic, compared to only 56% of traditional restaurants
Post pandemic, in Q3 2022, RBI posted digital sales growth of 26% year-over-year to $3.4 billion or a third of system-wide sales
---
EXPERIENCED MANAGEMENT WITH A STRONG TRACK RECORD
RBI is led by José Cil who is the CEO since 2019 and headed by a board of directors mainly composed of 3G Capital partners. On November 16, 2022, Patrick Doyle was appointed Executive Chairman of RBI to accelerate the group's growth. Doyle led Domino's through a phenomenal growth era between 2010 and 2018, during which the business grew to become the largest pizza chain in the world, more than doubling system sales while seeing a 20-fold increase in stock price.
Cil was appointed Chief Executive Officer in January 2019, and previously served as President of Burger King since December 2014
Cil served as Executive Vice President and President of Europe, the Middle East and Africa for Burger King Worldwide and its predecessor from November 2010 until December 2014. Prior to this, Cil briefly worked as a Wal-Mart Vice President in Florida from February 2010 to November 2010. He joined Burger King in 2000 and held various senior positions until his departure for Wal-Mart
Holds a BA in History and Political Science from Tulane University and a Juris Doctore from the University of Pennsylvania Carey Law School
Doyle was appointed Executive Chairman of RBI in November 2022 to accelerate growth for franchisees and shareholders
Most recently, he has served as an executive partner of the Carlyle Group, a global diversified investment firm, focused on the consumer sector. Prior to that he served as the chief executive officer of Domino's Pizza, from March 2010 to June 2018. Doyle has served on the board of directors of Best Buy Co., Inc. since November 2014 and has been the Chairman of Best Buy's board since May 2020
Mr. Dunnigan was appointed Chief Financial Officer in January 2018
From October 2014 until January 2018, Dunnigan held the position of Treasurer, where he led all of RBI's capital markets activities. Before he joined the Company, Dunnigan served as Vice President of Crescent Capital Group LP, from September 2013 through October 2014. Prior to that, Mr. Dunnigan spent three years as a private equity investment professional for H.I.G. Capital
Holds an M.B.A. in finance from The Wharton School
---
FINANCIAL CHECK
As inflation eats into purchasing power and consumers search for more affordable options, RBI saw stronger sales in Q3 2022 with net sales in the quarter up 15.5%. In 2021, system-wide sales, which include sales of all franchised and company-owned restaurants amounted to over $35 billion while total revenues amounted to $5.8 billion.
Global same-store sales rose 9.1% in the quarter
RBI's net income increased to $530 million, or $1.17 per share, from $329 million, or 70 cents a year ago
The strong dollar hurt RBI's results, just like it did for other multinational corporations. The company disclosed a loss of $30 million due to currency exchange rates
Burger King, Popeyes, Tim Hortons and Firehouse Subs have all raised prices in line with the rest of the sector to offset rising food and labor costs
---
THE BOTTOM LINE
The Good
RBI has developed a strong brand position despite fierce competition thanks to its growth strategy based on cost leadership and broad differentiation
The fast food industry typically weathers economic downturns well as consumers switch to less expensive alternatives
The Bad
In the last years, RBI had to deal with a series of challenges including domestic market competition and the implementation of a digital strategy
RBI has launched a multiyear plan to revive its sales in the U.S., the success of this strategy will have to be evaluated over the next two years
---
Disclaimer
Please note that this article does not constitute investment advice in any form. This article is not a research report and is not intended to serve as the basis for any investment decision. All investments involve risk and the past performance of a security or financial product does not guarantee future returns. Investors have to conduct their own research before conducting any transaction. There is always the risk of losing parts or all of your money when you invest in securities or other financial products.
Credits
Photo by AmRest.