Tyson Foods is one of the world's largest food companies with annual sales of over $54 billion as of October 1, 2022. Founded in 1935 by John Tyson and grown under three generations of family leadership, the company has a broad portfolio of products and brands like Tyson, Jimmy Dean, Hillshire Farm, Ball Park, Wright, Aidells, ibp, and State Fair. Headquartered in Springdale, Arkansas, the company has over 142,000 employees.
In 1935, after borrowing the money needed for the start-up, John Tyson started its business by shipping chickens from Springdale to Kansas City and St. Louis
Tyson later built his own hatchery and eventually a commercial feed business to quickly grow its chicken transportation industry in the U.S.
In 1957, the Tyson company constructed its first poultry processing plant hereby transforming the trucking company into a chicken corporation
Tyson maintained its growth during the 1960s by acquiring rival businesses
In 1963, Tyson went public, selling 100,000 shares at $10.50 each
By the early twenty-first century, Tyson Foods was the leading processor and marketer of chicken, beef, and pork
Today Tyson Foods produces about 20% of all the chicken, beef and pork sold in the U.S.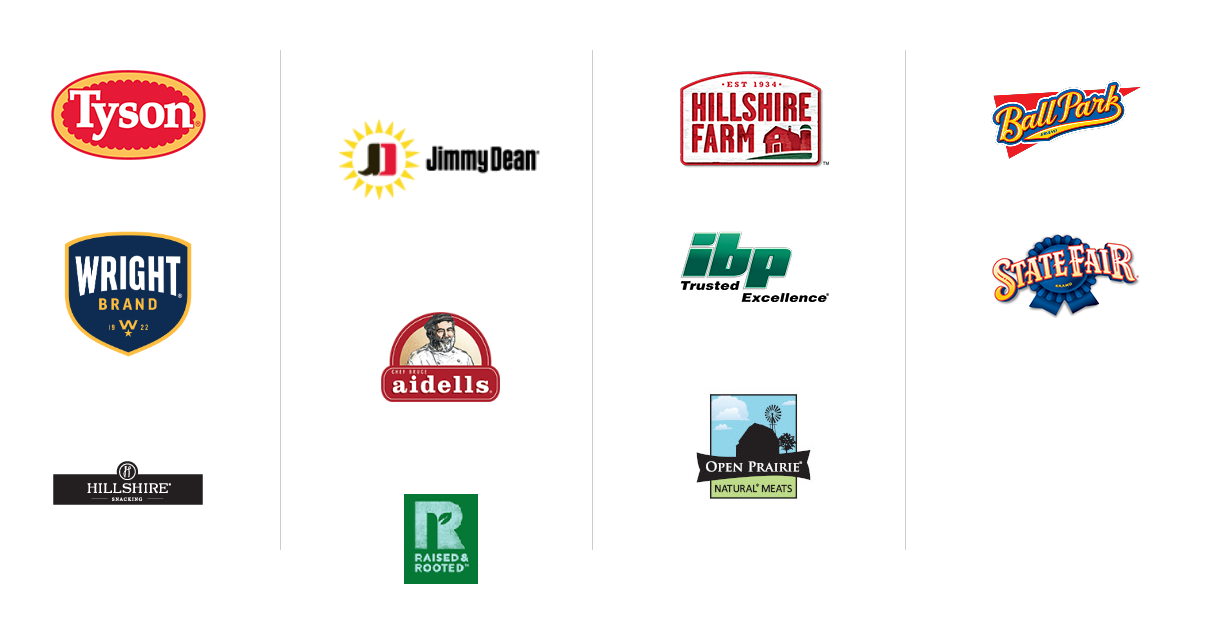 ---
A PROTEIN LEADER FACING CHALLENGES
Tyson Foods operates in four reportable segments: Beef, Pork, Chicken and Prepared Foods. In 2022, the Beef segment accounted for 37% of revenues, the Pork segment for 12%, the Chicken segment for 31% and the Prepared Foods segment for 4%.
However, profits from beef have been under pressure as premium beef cut demand has decreased. Meanwhile, meatpackers' costs to ranchers for livestock have increased due to the U.S. cattle herd's decline, a direct consequence from the draught that hit the U.S. last year.
Over the previous two years, Tyson's beef business had reported skyrocketing profit margins as understaffed plants limited supply and increasing customer demand helped drive up meat prices
U.S. households have been hurt by increasing food prices for two years. Since July 2020, meat costs have increased by over 17% causing consumers to change their shopping and eating habits.
---
SUPPLY CHAINS
Tyson Foods operates a comprehensive network of warehouses, distribution centers, and truck drivers in their own distribution system allowing them to deliver goods to consumers quickly throughout the U.S.. Tyson does not operate any feedlots, the company buys cattle from nearly 4,000 independent feeders and ranchers.
Tyson Foods employs cattle buyers located throughout cattle producing areas. These cattle buyers visit independent feed yards and public auctions to buy live cattle on the open spot market
Tyson's primary raw materials used in its pork operations are live hogs. The majority of its live hog supply is obtained through various procurement relationships with independent producers
The domestic chicken operations rely on corn and soybean as raw materials as well as live chickens raised primarily by independent contract farmers. Tyson's vertically-integrated chicken process begins with the grandparent breeder flocks and ends with broilers for processing. Breeder flocks (i.e., grandparents) are raised to maturity in grandparent growing and laying farms where fertile eggs are produced
---
THE U.S. MEAT BIG FOUR AND ANTITRUST ISSUES
A cartel that increased its market share and lowered the cost of livestock. This is the charge leveled against Tyson Foods, Cargill, JBS' American subsidiary, and National Beef by Ranchers Cattlemen Action Legal Fund United Stockgrowers of America (R-CALF) in April 2019.
The lawsuit claims that the four packers engaged in a price-fixing scheme in violation of the Sherman Antitrust Act of 1890, as well as the Packers and Stockyards Act and the Commodity Exchange Act
The meatpackers collectively control more than 80% of the market
U.S. president Joe Biden signed in 2021 an executive order to increase competition in the beef industry.
The White House has noted that, over the past five years, "farmers' share of the price of beef sales has dropped by more than a quarter - from 51.5% to 37.3% - while the price of beef has increased,"
---
THE MARKET
The U.S. meat market amounted to $160 billion in 2022 and is expected to grow to $195 billion by 2027,  growing at a CAGR of  4.19% over the forecast period. As of 2018, U.S. meat consumption per capita amounted to over 180 pounds compared to 70 pounds in 1970.
The growing popularity of protein-rich, ketogenic diets among consumers is expected to fuel the market growth
Furthermore, the increasing demand for processed products such as ready-to-cook, ready-to-eat and meat snacks is projected to further boost the growth of the market during the forecast period
The global meat market is valued at $1,206 billion in 2022 and is projected to grow to $1,750 billion by 2027, outpacing U.S. domestic growth with a CAGR of 7.7% over the forecast period.
In 2022, the top 5 largest markets were the U.S., China, Japan, Germany and France while the most produced meat worlwide is poultry
---
MANAGEMENT TEAM
Tyson Foods is led by an experienced team with Donnie King as President and CEO since June 2021. King has over 36 years of experience working in the poultry business for Tyson Foods, both in the U.S. and overseas.
Donnie King is President and CEO of Tyson Foods since June 2021
Donnie started his career at Tyson Foods in 1982 in the Poultry segment and has since held leadership positions in businesses across the company. Most recently, in the roles of Chief Operating Officer and International Business Group President, Donnie helped grow Tyson's global footprint, including in high-growth markets in Asia. He also served as President of North American Operations, where he was responsible for Poultry, Fresh Meats, International and Prepared Foods operations
He holds a bachelor's degree in business management from the University of Arkansas-Monticello
David Bray was named Group President, Poultry, in June 2021
David joined Tyson Foods in 2007 from Kraft Foods, where he was responsible for warehousing and direct store delivery. At Tyson Foods, he has held several executive leadership positions, including Senior Vice President of Grocery and Vice President of Sales. Most recently, he served in the role of Senior Vice President, Retail Poultry and Case Ready Meats, focusing on business development, working across our enterprise to enhance our product mix and service levels
He earned his undergraduate degree from Drury College in Springfield, Missouri.
Stewart F. Glendinning is Tyson Foods' Group President, Prepared Foods
Stewart joined Tyson Foods from Molson Coors Brewing Company, where he served as president and CEO of Molson Coors International. He began his career at Molson Coors in 2005 as chief financial officer for Molson Coors UK and subsequently held the positions of chief financial officer for Molson Coors Brewing, president and CEO of the UK Business, and President and CEO of Molson Coors Canada
Stewart earned his bachelor's degree in accounting from the College of William and Mary and a law degree from the University of Miami
---
FINANCIAL CHECK
Tyson Foods has been struggling with rising prices for everything from labor to livestock, its operating margins have been under pressure lately. The business is also estimating how much demand may decline as a result of pricing increases for customers.
Quarterly revenues increased by 7% to $13.74 billion
Tyson's operating margin dropped to 5.6% from 14.9% a year ago
Adjusted EPS amounted to $1.63, falling short of projections of $1.73
Tyson's beef business, its largest part, saw a 67% decline in quarterly operating profits from a year ago to $375 million, while its average prices fell by 8.2%
Tyson paid more for the cattle because ranchers in the western U.S. had to lower their herds due to the drought
In the pork segment, Tyson reported an operating loss of $55 million, down from a profit of $78 million in the prior year, as sales volumes and prices fell
Tyson's chicken division turned a profit for the quarter as sales volumes rose by 1.1% and prices rose by an average of 18.2%
Tyson forecasts full-year 2023 sales between $55 billion and $57 billion, versus analysts' expectations of $53.6 billion
---
THE BOTTOM LINE
The Good
There is a solid path forward for meat companies, both domestically and internationally
As one of the largest meat companies in the world, Tyson Foods is well positioned to capture this long term growth while tackling its own short term operational issues
The Bad
Tyson Foods' operating margins have been under pressure lately as the company struggles with rising prices
Demand for its premium meat products may also decline as a results of price increases
---
Disclaimer
Please note that this article does not constitute investment advice in any form. This article is not a research report and is not intended to serve as the basis for any investment decision. All investments involve risk and the past performance of a security or financial product does not guarantee future returns. Investors have to conduct their own research before conducting any transaction. There is always the risk of losing parts or all of your money when you invest in securities or other financial products.
Credits
Photo by Phinehas Adams on Unsplash