Coursera is an U.S.-based online course provider founded in 2012 by Andrew Ng and Daphne Koller, professors of computer science at Stanford University. It works with universities and organizations to offer online courses, certifications and degrees in computer science, business, arts, writing and many other subjects.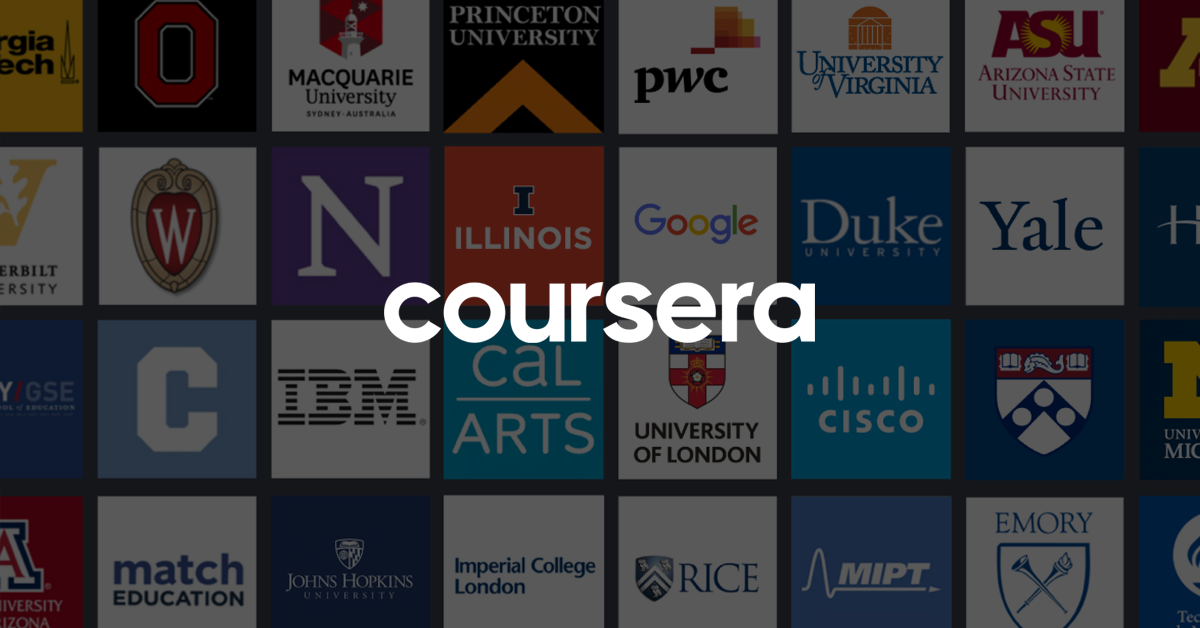 ---
LOW COSTS, HIGH IMPACT
Coursera's learning material is made by third parties (partnering universities and organizations). The company then makes money by selling access to courses and degrees for a monthly fee or one-time payment. This enables the company to focus on marketing while its partners create the educational material. Coursera also makes and publishes courses on its own.
Rich data analytics and Skills Graph: Since all of Coursera's teaching and learning activities happen online, their platform is able to capture a significant amount of data across millions of enrollments related to teaching, learning, content, and outcomes. These data allow Coursera to unlock marketing efficiencies by automating and targeting communications with learners to generate engagement
Consumer flywheel: Coursera customer acquisitions model is powered by free, high-quality content, global partner brands, expertise in search engine optimization and strong word of mouth referral. These lower the company's customer acquisition costs

"Our freemium offerings, large registered learner base, and stackable model enable favorable customer acquisition economics. Our sales and marketing expenses as a percentage of annual revenue were 31% in 2019 and 37% in 2020, as we grew total revenue 59% from 2019 to 2020. Our participation in numerous channels (Consumer, Enterprise, and Degrees) allows us to leverage technology, data, content, and know-how at scale." Coursera S1

Branded catalog of modular content: Coursera's broad catalog and flexible technology platform provide many entry points for learners. Students can start with a guided project, evolve into a specialization and finally sign up for a full online degree
---
Education 2.0
Coursera's initial goal was to lower the costs of education and impact students at a global scale. Today, is has evolved into a flexible, pragmatic and affordable educational solution with a constantly growing offering.
World-class: Coursera provides learning from experts at more than 200 leading universities and companies. Individuals can earn recognized credentials including professional certificates and university degrees to help advance their careers
Coursera is working with The Johns Hopkins University, the Leland Stanford Junior University, University of Michigan, UPenn, and Yale University, Universitat Autònoma de Barcelona, Università Commerciale of Milan, the University of London, among others
Job-relevant: Learners can master essential career skills that are benchmarked against skill levels observed in Coursera's employer customers and build personal and professional skills with applied, hands-on learning
Affordable: Learners can get started with a freemium offering or a free trial, and later earn fully accredited university degrees entirely online at affordable pricing

"When Coursera officially launched in 2012, all courses on the platform were made available free of charge. The company's mantra was to make the world's best education available to anyone thirsty to learn more." By Productmint
Flexible: Learners can access on-demand lectures on desktop and mobile devices on a schedule that fits their lives. They can choose from free courses, hands-on projects, certificate programs, and stackable credentials

"Almost every student was forced to learn online. Almost every teacher was forced to teach online. This huge forced experiment was tough in some regards, but it also introduced a new way of learning that's being embraced for the affordability, the quality, and the convenience." By Riley de Leon for CNBC
---
THE MARKET
The educational technology (EdTech) market is set to grow by over 16% each year over the 2020 - 2025 period, driven by the need for universities and school to offer remote and digital learning possibilities. Technological innovations and new ways of learning (gamification) are also helping the market forward.
1. According to Research And Markets, the EdTech and smart classroom market will grow from $ 86B in 2020 to $ 181B by 2025
Representing a CAGR of 16.1% over the 2020 - 2025 period
Driven by the need for online teaching following the pandemic, the improved and cheaper hardware (mobile and desktop) and innovations in the EdTech sector (gamification, technical gadgets and trackers)

"Tablet computing, gamification, learning analytics, 3D printing, and wearable technical gadgets, such as small motion sensors, fitness trackers, and smartwatches have changed the vision of higher education and its operations."

"Education technology has completely revolutionized higher education, helping the segment to overcome all the traditional barriers that were imposed by space and time." By Research And Markets
2. According to HolonIQ, the global EdTech market is set to reach $ 404B by 2025, more than doubling in size from 2019
Representing a CAGR of 16.3% over the 2019 - 2025 period
Driven by the higher adoption of e-learning tools and a large increase in B2C EdTech models as parents and workers increasingly seek learning support

"Currently, education technology (edtech) accounts for less than 5% of the $1.6T spent on education in the US each year, according to LearnLaunch. Digital technology penetration in the education sector is slight compared to other sectors." By CBInsights
Leaving plenty of upside potential as the EdTech market will only account for 5.2% of the $ 7.3T global education market in 2025

"Part of this transition includes significant 'infrastructure catch-up' required for managing learning, data and administration as most schools and colleges are still at the very start of a long digital maturity journey." HolonIQ
---
EXPERIENCED MANAGEMENT
Jeff Maggioncalda is the CEO of Coursera. He was the founding CEO of Financial Engines and previously worked at McKinsey & Company. Kim Caldbeck is the CMO of Coursera and previously worked at Facebook and Apple.
Jeff Maggioncalda joined Coursera as CEO in June 2017
Previously served for 18 years as the founding CEO at Financial Engines Inc, providing online investment advice that help people prepare for retirement. Jeff has also worked as a consultant at McKinsey & Company and Cornerstone Research, and continues to serve as a Director of Silicon Valley Bank
Holds an MBA from the Stanford Graduate School of Business and a Bachelor's degree in Economics and English from Stanford University
Kim Caldbeck is the Chief Marketing Officer at Coursera. Joined Coursera in April 2015 as Director of Brand and Product Marketing
Prior to Coursera, Kim spent five years at Facebook launching many of Facebook's first consumer marketing campaigns in over 60 global markets. She also spent two years in business marketing at Facebook helping advertisers build their brands and businesses in the digital world. Prior to Facebook, Kim worked in marketing at Apple supporting a network of over 100,000 app developers. She started her career in brand consulting and consumer research at Landor Associates
Received her undergraduate degree from Harvard University and her MBA from Stanford Graduate School of Business
Ken Hahn is Chief Financial Officer at Coursera
Has more than 20 years of experience as Chief Financial Officer at public and private companies, including Collective Health, iControl Networks (acquired by Comcast), QuinStreet, and Borland Software. Prior to his executive roles, Ken worked at the Boston Consulting Group and PricewaterhouseCoopers
Graduated summa cum laude from CSU Fullerton and was named an Arjay Miller Scholar when he earned an MBA from the Stanford Graduate School of Business
---
TAKE A BREATH
So… This is a lot of information. Let's summarise:
Coursera is an EdTech player with a global audience and backed by giants such as Kleiner Perkins and NEA
Together with partnering organizations and universities, it has built an extensive courses catalog that enables learners from across the world to sign up for guided projects, specialisations and even full degrees
As universities and organizations are the ones responsible for creating courses, Coursera is able to act as a platform and focus on sales and customer experience
The EdTech market is still in its infancy and projected to grow by 16% over the 2020 - 2025 period
---
FINANCIAL CHECK
Net sales reached $ 293m in 2020, up 59% year-on-year from $ 184m a year earlier
It counted 77m registered learners in 2021, up 65% year-on-year

"The increase in revenue in 2020 was primarily driven by the 65% increase in registered learners, which resulted in a substantial number of additional paying customers, the addition of 147 Paid Enterprise Customers, and the increase in the number of Degrees students in 2020 compared to 2019. These trends accelerated in part due to the effects of the COVID-19 pandemic." Coursera S1
Gross margins stood at 53% in 2020, up from 51% in 2019
The increase in gross margin was due to a shift in mix of revenue toward Enterprise and Degrees and economies of scale within Coursera's operations
Operating expenses stood at 76% of sales in 2020 versus 77% in 2019
Research and development decreased to 26% of sales from 30% in 2019 while sales and marketing expenses increased to 37% of sales versus 31% a year earlier
The company recorded a net loss of $ 67m in 2020 versus a loss of $ 47m in 2019
Coursera had $ 355m in current assets versus $153m in current liabilities
A year earlier, it recorded $ 206m in current assets versus $ 83m in current liabilities
---
BENCHMARK'S TAKE
The Good
Coursera is growing at a fast clip and is one of the leading educational platforms at a global scale
It lets partnering organizations and universities create and digitize courses while it focuses on building out the platform and enrolling students
The global EdTech market is still in its infancy and projected to grow by 16% each year over the 2020 - 2025 period as students increasingly turn to remote learning options
Coursera is ideally positioned to grow within the corporate learning segment with its enterprise solutions and company-sponsored courses
Andrew Ng, the founder of Coursera, is launching Workera, a data science testing and training tool for corporates
The Bad
The company's sales may decrease as schools and universities re-open, decreasing demand for Coursera's solutions in the short term and pressuring sales (and the rich stock price)
At 24 times sales, the company is relatively richly valued after taking into account a decreased post-COVID growth rate
---
Disclaimer
Please note that this article does not constitute investment advice in any form. This article is not a research report and is not intended to serve as the basis for any investment decision. All investments involve risk and the past performance of a security or financial product does not guarantee future returns. Investors have to conduct their own research before conducting any transaction. There is always the risk of losing parts or all of your money when you invest in securities or other financial products.