Since the start of the coronavirus pandemic, the region has added 60 million new internet users, bringing the total to 440 million, according to a report by Alphabet's Google, Singapore state investor Temasek Holdings, and global business consultants Bain & Company.
According to an industry estimate released on Thursday, Southeast Asia's internet economy is expected to surpass $1 trillion by 2030, as tens of millions more consumers adopt online shopping and food delivery.
Due to a young population, rising smartphone usage, higher urbanisation rates, and a growing middle class, the 11-country area is one of the world's fastest expanding internet marketplaces.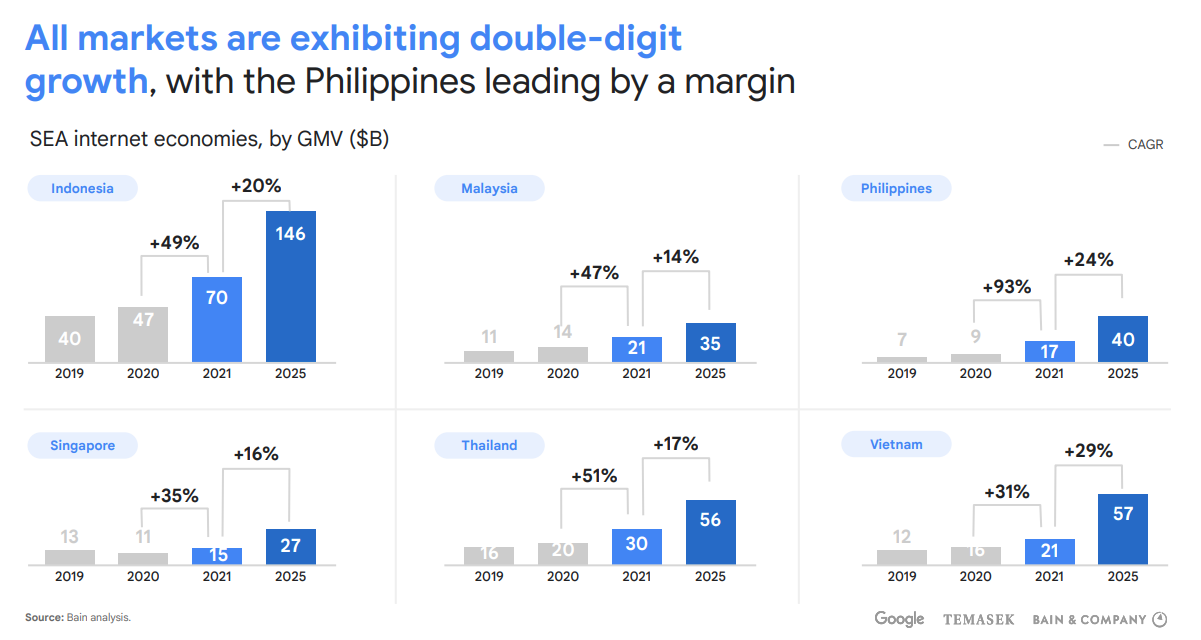 ---
Resilient Market
Most internet sectors in Southeast Asia have remained robust to the pandemic's effects, despite months of strict lockdown measures that impacted businesses and employment around the world.
Countries have been gradually loosening restrictions this year as the number of individuals vaccinated against Covid climbs, in order to get their economies back on track.
The internet sector in those six Southeast Asian countries is expected to reach $174 billion in gross merchandise value (GMV) in 2021, up 49 percent from a year ago, according to the research, with e-commerce driving the majority of the development
According to Stephanie Davis, Google's vice president for Southeast Asia, e-commerce will continue to be the dominant part of the internet economy until 2025 and beyond
According to the survey, online financial services are developing in the region alongside e-commerce as digital payments and e-wallets become more commonplace. The total value of digital payments in those six countries is expected to reach $707 billion this year, up 9% from last year
---
Investors' Interest
More money is flowing into Southeast Asia's internet economy, especially in industries like e-commerce and online financial services.
According to the survey, larger fundraising rounds and greater valuations for start-ups have resulted in the creation of 11 new consumer technology unicorns this year, while more established companies are considering IPOs.
"The world is awash with liquidity and people are looking for growth opportunities in a zero interest rate world environment, [...] Apart from that, actually, people have been really impressed by the resilience of [the region's internet] sector during Covid," Rohit Sipahimalani, chief investment strategist at Singapore state investor Temasek
For example, in September, online marketplace Carousell acquired $100 million in new funding, valuing the firm at $1.1 billion, while Grab, the ride-hailing powerhouse, revealed plans to go public in April
In August, Indonesia's e-commerce behemoth Bukalapak debuted on the stock exchange
---
BENCHMARK'S TAKE
Southeast Asia's economy is growing at a rapid clip, helped by a young population, growing internet penetration and improving infrastructure
Southeast Asia's growth is opening the door to global investors who wish to benefit from the rapid organic growth with a minimised regulatory risk versus China
However, investors should remain prudent for an increase in U.S. interest rates which may  render investments in emerging economies less attractive and lead to an outflow of capital
Still, we're on the lookout for additional investment opportunities in the region
---
Disclaimer
Please note that this article does not constitute investment advice in any form. This article is not a research report and is not intended to serve as the basis for any investment decision. All investments involve risk and the past performance of a security or financial product does not guarantee future returns. Investors have to conduct their own research before conducting any transaction. There is always the risk of losing parts or all of your money when you invest in securities or other financial products.
Credits