Enthusiast Gaming is a Canadian digital media company that specialises in video game journalism and esports. It was founded in 2014 by Menashe Kestenbaum, it owns the websites Destructoid and Escapist Magazine, as well the gaming convention Enthusiast Gaming Live Expo.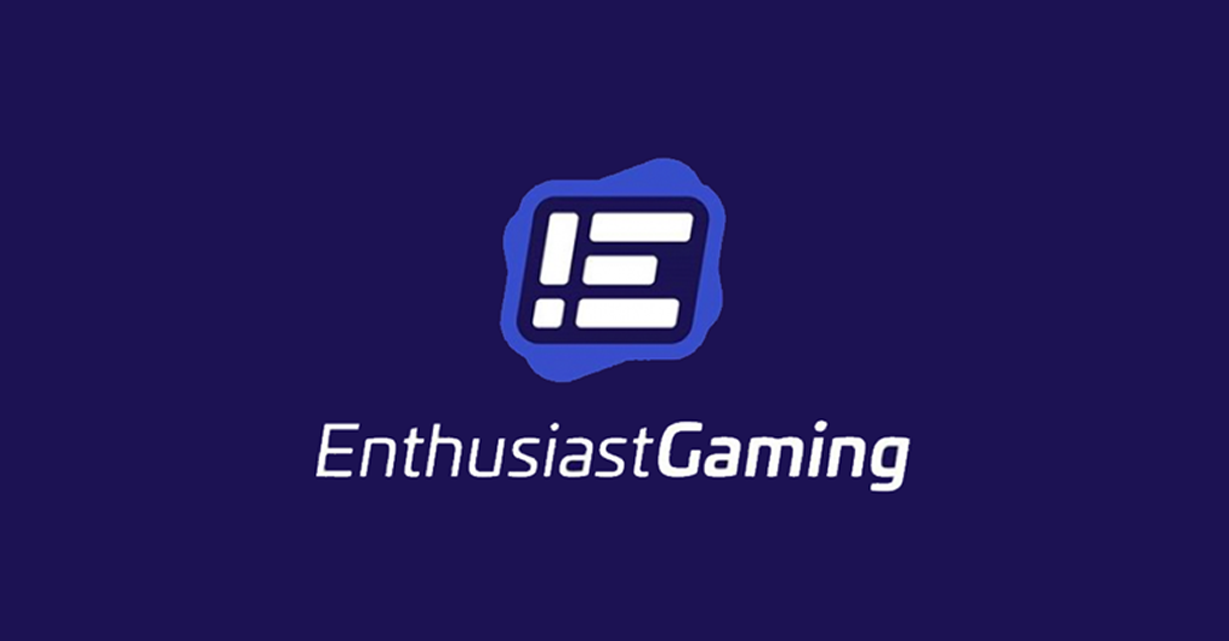 ---
GAMING MEDIA
The company engages with a community of 300m monthly gamers through a series of websites, YouTube channels, influencers, events and esports organisations. It generates over 4.2B views each month.

"[…] boosting its reach to a total of 300 million gamers monthly and making it the largest gaming media platform in North America […]" Christina Settimi for Forbes
It grows by developing original content and new concepts but also by acquiring competing websites, gaming teams and partnering with influencers. Today, the company disposes of a full-suite of video game outlets:
100 websites (Destructoid, Daily eSports, The Escapist, Nintendo Enthusiasts)
1,000 YouTube Channels (The Squad, Arcade Cloud)
A professional gaming team called Luminosity Gaming (747,000 subscribers on YouTube versus 2.3m for TSM, one of the largest gaming teams)
500 gaming influencers, gamers and content creators
An esports expo gathering 12m online viewers
---
FULL EXPERIENCE
Instead of developing and selling its own games, Enthusiast Gaming's products are centred around the fan experience. The company is betting that it can deliver value to players by providing the content and media they want to consume.
Enthusiast Gaming wants to corner the off-game experience and therefore provides the following possibilities to its users:
Read an article or join a forum on one of their Websites
Watch a YouTube video on one of their Channels
Follow the professional teams
Watch live streamed content from one of their I-influencers on their Twitch Channel
Attend a live or virtual event to connect with other fans and custom activations like tournaments, merchandise, player and celebrities
Going forward, the company wants to become the leading media organisation and social network in gaming.

"Gaming is the new social network, and we're building it," Enthusiast CEO Adrian Montgomery by Christina Settimi for Forbes
---
LARGE AND GROWING AUDIENCE
Enthusiast Gaming's one-stop-shop solution makes it an increasingly attractive tool for brands targeting the Gen Z and millennial cohort.
The company's audience totals 65m individuals in the U.S. and 11m in the UK (43% of males aged 18-34 visit at least one Enthusiast Gaming site per month)
According to Nielsen, 71% of millennial gamers watch gaming video content (GVC) on platforms like YouTube and Twitch

"In addition to watching GVC for nearly six hours each week, this highly engaged audience also spends an average of $29 in donations each month to their favorite content creators." Nielsen

It doesn't need to spend money to attract visitors and relies exclusively on organic traffic with $0 spent on SEO and $0 Cost of Acquisition

"If you have a business that requires you to reach Gen Z or millennials, you cannot avoid gaming or us," Enthusiast CEO Adrian Montgomery by Christina Settimi for Forbes

"[…] two-thirds of those aged 18 to 34 are playing video games every month and that, when they aren't gaming, they're watching gaming—figures backed by Nielsen." Christina Settimi for Forbes

"[…] two in three U.S. Millennials now playing every month. Brands and media companies should add gaming to their media plans so they reach a highly engaged Millennial audience." Nielsen
---
BRAND SAFE PRODUCT FOR TIER-1 PARTNERS
Through its ensemble of brands, it is able to offer a brand safe advertising environment as ads are displayed in a gaming-first environment, minimising the risk of misalignment between page content and the advertiser's message.

"For the Internet Advertising Bureau (IAB), brand safety is defined as keeping a brand's reputation safe when they advertise online. In practice, this means avoiding placing ads next to inappropriate content." BannerFlow
Through its focus on gaming, Enthusiast Gaming is able to provide the brand safe environment advertisers look for when they want to reach the millennial and Gen Z cohort. Enthusiast Gaming is then able to leverage its media advertising, custom content, esports sponsorships and influencer marketing to fulfil its partner goals.
This leads TIER-1 companies interested in Enthusiast Gaming's audience to advertise with them:
Amazon Studios
Snapchat
Twitch
Tik Tok
Gillette
Nintendo
The company recently signed a deal with Samsung to provide them with product placement and promotional activity with its influencers. Samsung will sponsor the Luminosity Gaming team and the Enthusiast Gaming expo.

"We are thrilled to announce Samsung as an Enthusiast gaming partner and to work with them across our suite of integrated media, esports and entertainment assets to create awareness and drive share for their leading PC offerings, exclusively designed for gamers." Enthusiast CEO Adrian Montgomery from Gaming Street
---
MAKING MONEY
The company generates only 6% of its sales from esports and makes the bulk of its revenue from advertising contracts. In 2020, the company is expected to make $ 95m in sales which include $ 61m in revenue that is has to redistribute to its content creators.
Enthusiast Gaming has a 5-steps growth plan that is meant to create value by growing their audience while growing their Average Revenue Per User (ARPU) by selling subscriptions, licenses and apps.
1. Build Scale / Own the Fan Experience (ARPU of $ 0.4)
Enthusiast Gaming grew its audience to 300m gamers through its network of influencers, websites and live events
2. Monetise through Advertising (ARPU of $ 1)
The company monetised its audience exclusively through programmatic ads, which provided low CPMs
It now seeks to optimise its programmatic ads and boost its advertising revenue through direct sales
3. Sell Content (ARPU of $ 1.5)
It plans to increase its subscriptions and licensing revenues in order to generate an ARPU of $ 1.5
Today, it already counts 115,000 paying subscribers and is licensing its products to Snap and Samsung
4. Marketplace (ARPU of $ 2)
It plans to increase its ARPU to $ 2 by launching a marketplace and monetising its apps
5. Social (ARPU of $ 3)
In the last phase, Enthusiast Gaming plans to reach a $ 3 ARPU by offering social networks features
---
FUELLING GROWTH
Enthusiast Gaming is consolidating its market through a series of mergers and acquisitions. Most recently, it merged with Luminosity Gaming (which operates 7 esports teams) and it acquired Omnia Media for $ 34m.
Omnia Media's produces over 30 weekly shows across AVOD and OTT channels
It represents over 500 YouTube influencers and counts over 90M unique viewers
Omnia Media's 2019 sales increased 29% year-on-year and reached $ 59.9m

"The purchase is a bargain find for Enthusiast, which has gobbled up 12 gaming companies in the last three years, including paying $20 million for The Sims Resource, one of the largest female gaming destinations. TSR is visited by over 2 million monthly […]"

"Last August, Enthusiast merged with Luminosity Gaming, the operator of seven esports teams, including the Seattle Surge of the Call of Duty League and the Vancouver Titans of the Overwatch League, with over 70 million followers." Christina Settimi for Forbes
---
THE MARKET
The esports market is growing at over 20% per year over the 2020 - 2025 period, driven by increasing smartphone penetration, a reduction in the price of mobile internet and innovations such as cloud gaming.
1. According to Goldman Sachs, esports revenue is set to reach $ 3B by 2022
With prize pools expected to grow by a CAGR of 30% over the 2019 - 2024 period
2. According to Research And Markets, the esports market is set to grow by a CAGR of 20% over the 2020 - 2025 period and reach $3B
Driven by the growing popularity of esports on a global level and increasing game publishers support
3. According to Global Data, the video games market could reach $ 300B by 2025 up from $ 131B in 2018
Driven by the advent of mobile gaming, cloud gaming, virtual reality gaming and new payments model (in-game micro-payments) which boost spending

"At the same time, new technologies like 5G, cloud, and virtual reality will usher in a new phase of innovation" - Ed Thomas, Global Data
4. According to Mordor Intelligence, the gaming market is set to go from $ 151B in 2019 to $ 257B by 2025
Growing by 9.2% a year over the 2020 - 2025 period
Driven by the upgrade cycle in consoles (Sony and Microsoft), the emergence of cloud gaming and the rise of esports
---
TAKE A BREATH
So… This is a lot of information. Let's summarise:
Enthusiast Gaming is a media company active in the gaming segment
It develops internal brands, acquires websites, partners with influencers and merges with gaming teams to create the leading gaming media company
It is betting that gamers want to consume gaming-related content once they stop playing and the company seeks to corner the off-game experience
It now counts over 300m gamers and generates 4.2B monthly views at an ARPU of $ 0.4
Enthusiast Gaming is acting as the consolidator in the gaming media segment and is driven by the segment's underlying growth as the esports market is set to grow at over 20% per year over the 2020 - 2025 period
Going forward, it plans to improve its audience's monetization through subscription services and apps
---
FINANCIAL CHECK
Revenue was $ 16.3m, an increase of 133% compared to $ 7.0m in Q2
Pro forma (including the Omnia Media acquisition) revenue was $ 31.7m for Q3 2020, an increase of 17% compared to $ 27.2m in Q2
Gross margin decreased to 24.8% in Q3 2020 from 65.1% in Q3 2019 and reached $ 4.1m
Pro forma gross margin increased to 16.8% from 16.7% in Q2 and reached $ 5.3m
Operating expenses were $ 8.2m, an increase of 5% from $ 7.8m in Q3 2019
Pro forma operating expenses were $ 9.3m, an increase of 4% compared to $ 8.9m in Q2
Net loss and comprehensive loss for Q3 was $ 8.0m, compared to a loss of $ 16.1m in Q3 2019
Pro forma total views across written and video content were 10.6B for Q3, down from 12.5B in Q2
Company has $ 27.2m in current assets and $22.3m in current liabilities and $ 22m in long-term debt
---
BENCHMARK'S TAKE
The Good
Enthusiast Gaming is turning itself into the leading media company in the gaming sector
It is doing so by acquiring competitors, partnering with influencers and merging with leading gaming teams
The esports market is growing at a rapid pace and set to double in the coming 5 years, providing the organic market growth Enthusiast Gaming needs
Its one-stop-shop offering enables it to serve TIER-1 customers as Amazon, Snap, Tik Tok and Samsung
The Bad
Gross margins have sharply decreased in the past year and the company is significantly indebted, which may require the company to raise additional cash before it reaches profitability
The pandemic gave a boost to the gaming sector but negatively affected esports events, to which Enthusiast Gaming is exposed through its gaming teams and events
---
Disclaimer
Please note that this article does not constitute investment advice in any form. This article is not a research report and is not intended to serve as the basis for any investment decision. All investments involve risk and the past performance of a security or financial product does not guarantee future returns. Investors have to conduct their own research before conducting any transaction. There is always the risk of losing parts or all of your money when you invest in securities or other financial products.