Palantir Technologies was founded in 2003 by Peter Thiel, Nathan Gettings, Joe Lonsdale, Stephen Cohen and Alex Karp (current CEO). The inspiration for Palantir came from Peter Thiel's experience at PayPal Holdings where they built a software able to spot credit card fraud. Thiel wanted to apply the same logic behind this software to counter terrorist threats and protect civil liberties.
Palantir's original clients were federal agencies. It quickly expanded to add states and local governments. It also serves private companies such as Morgan Stanley, Airbus, Fiat and Merck.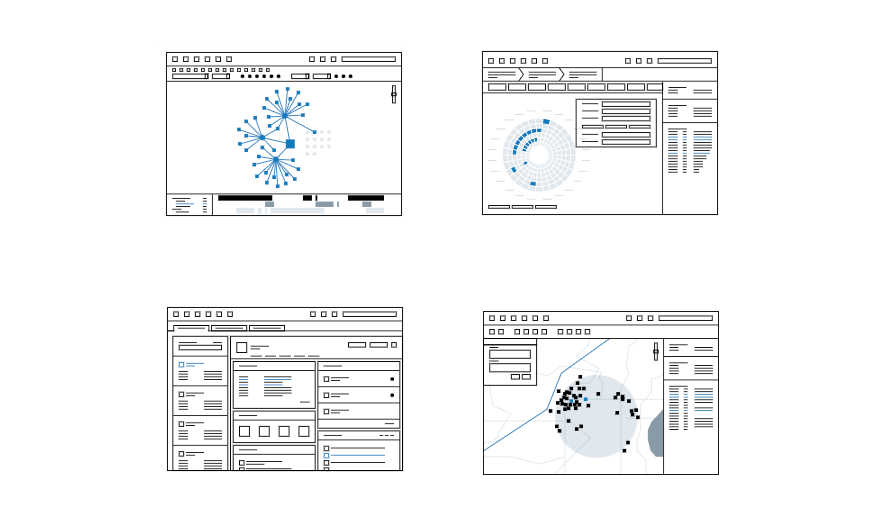 ---
THE PRODUCTS
Palantir is a powerful and secure data analytics tool for analysts and advanced developers. Able to process raw data while leveraging the power of machine learning and display this data in compelling graphs and tables.
The company is known for 3 products in particular:
This platform enables users to merge, process and visualize their data:
Users can merge data from different data sources
Users can define rules for processing the data, this data will then automatically flow through Gotham and be processed
Data can then be rendered in a human-readable format such as graphs, maps, browsers
Today's challenges require the input from people from all backgrounds, not just data scientists and engineers:
Foundry's front-end capabilities enable anyone to analyse datasets in a point and click environment
More experienced users can use Foundry's analytical capabilities to run advanced models and leverage the power of machine learning to produce insights
You can't place Palantir's software in a public cloud and then let the government run its military / defence operations from it:
Palantir's customers have specific security needs and require their software to run on purpose-built government or classified clouds
These clouds are independent from standard public cloud infrastructure
That's where Palantir Apollo comes in:
Apollo is a layer that sits between Palantir's products (Gotham and Foundry) and the underlying infrastructure / endpoints
At the end of the day, Apollo manages the Gotham and Foundry platforms, automatically and safely providing updates and resolving key software issues
---
SO WHAT IS PALANTIR
Palantir is a "military grade" and secure data analytics tool that serves governments, armies and corporations.
Palantir helps corporations and governments securely handle their data (load, merge, transform, process)
By serving governments, Palantir is able to secure large and "safe" contracts over the long term, smoothing out its sales
It's "We Serve Governments" positioning might help it gain credibility at large corporates and become the de-facto data analysis tools that runs corporates
---
DRIVING DEMAND
Underlying market is set to grow by around 15% a year. As a lot more data, robots and tools to collect data emerge.
There are 3 thus markets that move the needle for Palantir.
Cyber attacks inflicted damaged valued at around $ 3T in 2015 and is expected to reach $ 6T by 2021
Expected to reach $ 10.5T by 2025, representing a CAGR of 15% over the 2020 - 2025 period
2. Spending on robotics
Wars are being fought through drones and information being collected online rather than on the field. How is that reflected in military spending into robotics?
What is the global spending on robotics?
In 2014, The Boston Consulting Group forecasted spending on robots to reach $ 67B by 2025
Market And Markets forecasts that the robotics market is set to reach $ 77B by 2020 and $ 177B by 2025, for a CAGR of 18% over the 2020 - 2025 period
3. Data analysis software market
Market And Markets forecasts that the enterprise data management market is set to reach $ 229B by 2025 up from $ 139B in 2020 (CAGR of 10.6%)
Driven by the increasing amounts of data available throughout enterprises and the emergence of IoT devices
---
WHAT MAKES PALANTIR TICK
Armies and governments are transitioning to the cloud and increasingly use data to make decisions. This time, they are turning to the private sector.
In more details, the US Army plans to spend $ 1B on cloud, data and artificial intelligence:

"The intent is to move the Army from the industrial-age processes to the information age of leveraging data as a strategic asset and utilizing private sector technology" Lauren C. Williams for FCW
Here is from the 2019 Army Modernisation Strategy:

"The Army will develop cloud computing technologies, improve data access and sharing environments, and streamline software development tools and services."
Governments and armies are increasingly depending on the private sector to drive large projects - such as building a rocket:

"Administrator Jim Bridenstine plans to "increase the use of commercial partnerships" to accelerate the White House plans, the budget said." - CNBC
---
CYBERATTACKS
The threat of cyberattacks tops the World Economic Forum's list of "Business Risks" for businesses in North America and Europe. In today's world, data is one of the few assets companies want to protect at all cost.
Palantir's track record might of course reassure worried corporates looking for a military grade data analysis tool.

"Cyberattacks" and "data fraud or theft", the newest risks on the block, are two very dangerous threats to be worried about over the next decade. As day-to-day business continues to digitize, cyberattacks yield higher payoffs and become more difficult to fend off. - World Economic Forum
And "Data fraud / theft" is the second most important risk in North America.

"Data fraud or theft" is the second risk for doing business in North America, a by-product of the top risk: "cyberattacks". Hackers targeting financial institutions in the US have successfully penetrated their databases 3,494 times, and that's just in the first seven months of 2019. Meanwhile, four out of every five Canadian businesses suffered a breach over the past year.
---
TAKE A BREATH
So… This is a lot of information. Let's summarise:
Cyber attacks, data theft and online theft are on the rise
Governments and companies increasingly rely on data analysis tools but these need to be safe
Palantir provides a "military grade" data analysis tool both in terms of performance and security
---
FINANCIAL CHECK
Sales reached $ 289m in Q3 '20 up from $ 191m a year earlier (52% YoY growth)
Cost of sales stood at $ 149m, leaving a Gross Margin of 48% (down from 66% a year earlier)
Operating expenses stood at $ 987m up from $ 269m a year earlier
Operating expenses equalled 341% of sales, up from 142% a year earlier
New contracts in Q3 '20  include U.S. Army ($ 91m), National Institutes of Health ($ 36m) and a $ 300m renewal with aerospace customer
---
THE BOTTOM LINE
The Good
Cyber attacks, data theft and online breaches are the most important issues for businesses in North America and Europe
Governments, armies and agencies are making the full turn towards a cloud-first and machine learning-powered future
Palantir designed a robust data analytics tool for the 21st Century: capable of deriving insights from large swath of data while being extremely secured
Palantir isn't growing as fast as other SaaS companies but secures contracts that are more sticky and is virtually alone in its expertise field
The Bad
Financials need to be watched as gross margins have decreased and operating expenses exploded
Palantir's valuation is stretched for now, pressuring the risk / reward potential
---
Disclaimer
Please note that this article does not constitute investment advice in any form. This article is not a research report and is not intended to serve as the basis for any investment decision. All investments involve risk and the past performance of a security or financial product does not guarantee future returns. Investors have to conduct their own research before conducting any transaction. There is always the risk of losing parts or all of your money when you invest in securities or other financial products.