Evolution Gaming Group AB is a Swedish company that develops, produces, markets and licenses live casino solutions for gaming operators.
It was founded in 2006 and has become a pillar in the online gambling industry. Serving over 300 operators and employing over 7,300 people.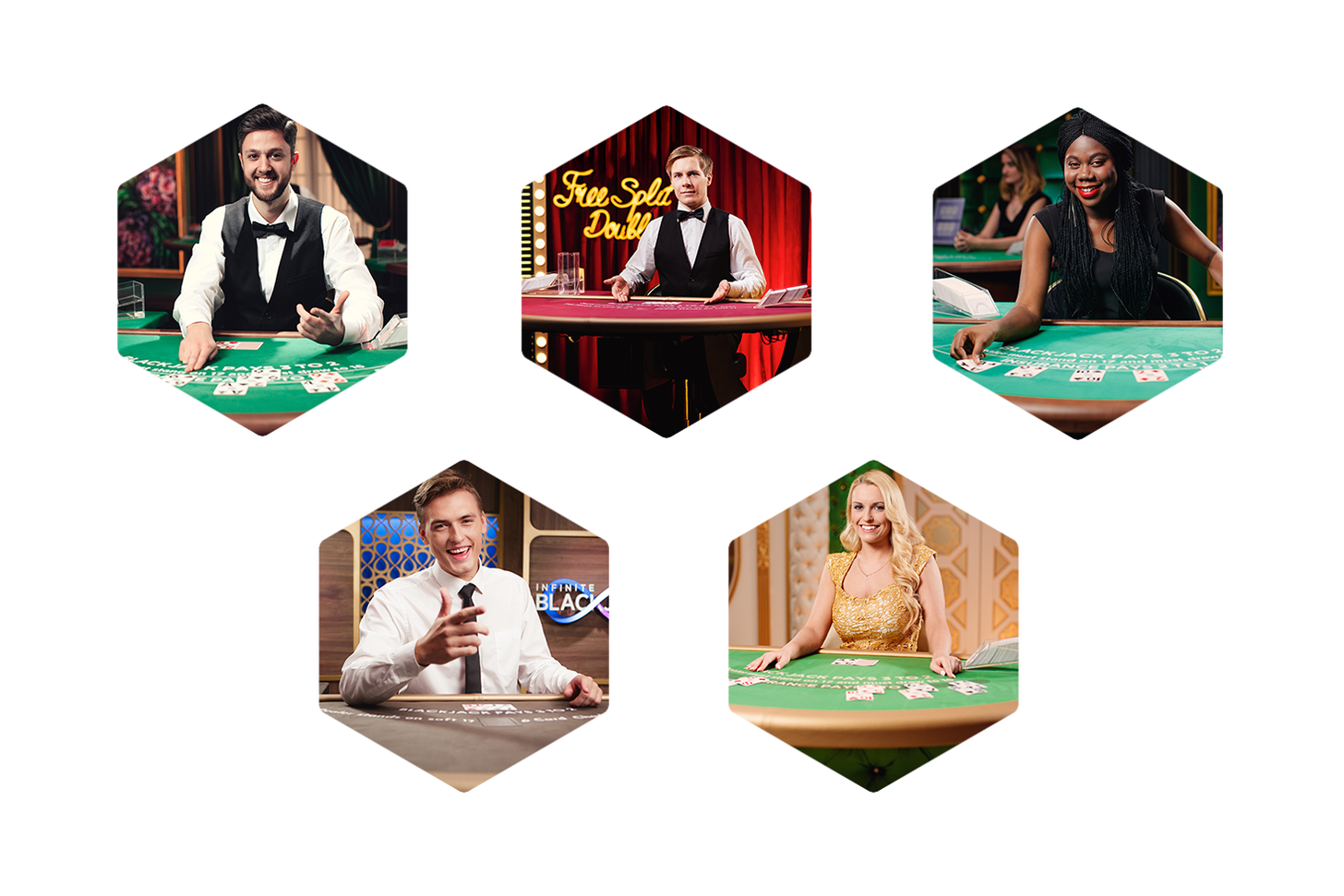 ---
LIVE CASINO
Live casinos are the crossroads of digital and physical gambling. The dealer is a real person, filmed in a state-of-the art studio and live-streamed to players across the world. Players make their bets and interact with the dealer in real-time.
How does it work?
A real game operator (dealer) handles real playing material (cards, roulette)
A set of high-definition cameras sits in front of the game operator and streams the live action to gamers
Gamers interact (make bets, chat, speak) through their computer or mobile phone
The game operator (dealer) works from a purpose-built gaming studio where the streaming equipment is installed
The decor can be a mix of computer generated images and real decor
The studio has to adhere to the rules of the jurisdiction it operates from
---
THE BUSINESS
Evolution Gaming is the leading operator of live casino studios. It counts 9 studios worldwide. it has equipped these studios with high-quality streaming material (cameras, lights) and recruits the staff (game operators, hosts). It then licenses these studios to gambling companies.
Evolution Gaming owns live gaming studios. It also recruits and trains the gaming operators
It provides parts of the live-gaming software, offers decor and game customisation features
From its control rooms, it monitors games to prevent fraud
It then licenses these facilities to gambling companies such as Betfair, Draft Kings, William Hill and many more
It also enables mobile live casino (play from mobile device) and land-based live casino (where it operates from a real casino but streams game to players online)

"As the world's leading B2B Live Casino supplier, Evolution offers gaming operators the very best and most flexible live gaming studio facilities. From multiple state-of-the-art Live Casino production studios across Europe, Canada and the USA we deliver the most comprehensive turnkey Live Casino solutions available to operators." - From Evolution Gaming's Website
---
COMPETITIVE CHALLENGES
Evolution Gaming is the leader in the live casino studio market as it operates 9 studios worldwide and serves over 300 operators.

"Due to the high quality of their live dealer casino games, you will find the products of this [Evolution Gaming] casino vendor in many gambling websites throughout the industry." - From Every Matrix
Skandinaviska Enskilda Banken goes even further in its review of Evolution Gaming:

"The company is the leading supplier of live casino games […] Online live casino is the fastest growing segment of the online gambling market in Europe"

"Evolution Gaming's market share amounts to 40% in Europe with half of the 20 biggest operators as their clients"
Evolution Gaming is not standing still and protecting its position by acquiring NetEnt, another leading online gambling player:
---
THE MARKET
According to Research And Markets, the global online gambling market is expected to reach $ 127B by 2027
Generating a CAGR of 11.5% over the 2020 - 2027 period
Driven by the increasing adoption of smartphones and technical advances (5G, live streaming) that enable a better online experience

"Moreover, increasing digitalization coupled with secure digital payment options are also some factors contributing to online gambling market growth." - From Research And Markets
What about the Live Casinos' market?
Skandinaviska Enskilda Banken reports that the segment grew by 45% a year over the 2008 - 2016 period:

"Online live casino is the fastest growing segment of the online gambling market in Europe. The segment has grown with an average yearly growth of 45% since 2008. Online live casinos shares of the total online casino market has grown from a couple of percent to 25% during the same period [2008- 2016]"

Google Search Interest for live casinos has been on a steady growth trajectory over the last 15 years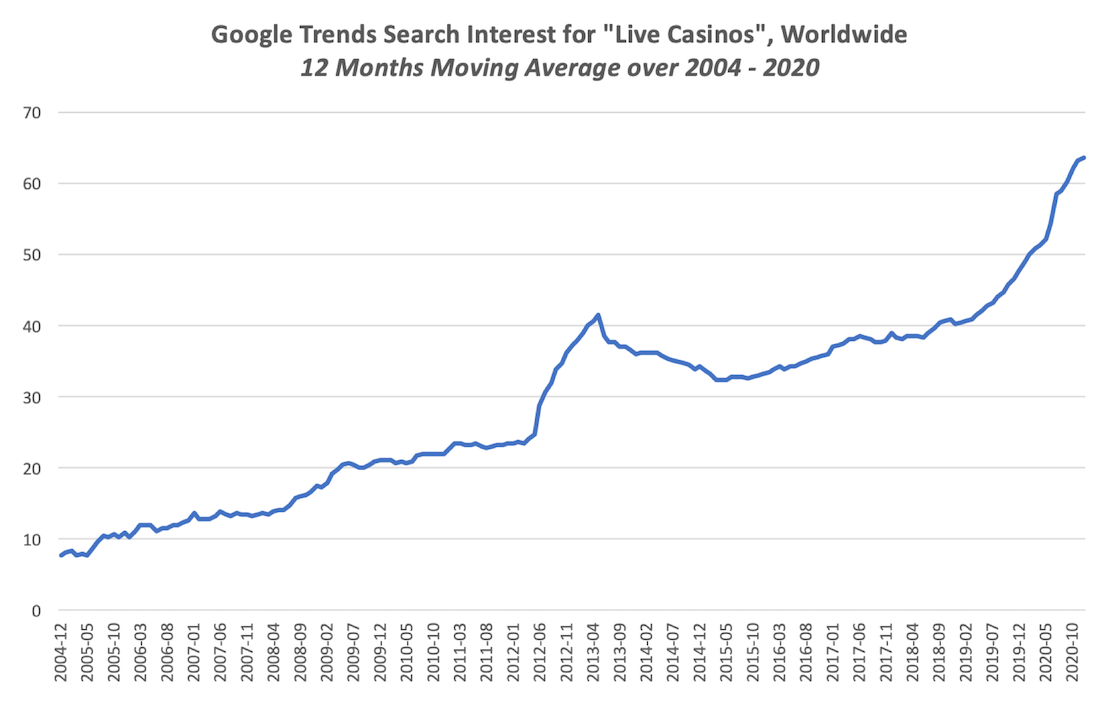 ---
TAKE A BREATH
So… This is a lot of information. Let's summarise:
Evolution Gaming is the leading provider of live casinos studios
It provides high-end and customizable studios equipped with the latest technology (cameras, lightning, streaming services) and it also staffs its studios with game operators, hosts
The live casino market has seen tremendous growth over the last years as technology improved and possibilities increased
---
FINANCIAL CHECK
Sales reached € 140m in Q3 2020 up from € 95m a year earlier - representing 48% year over year growth
EBIT increased by 99% to € 84m up from € 42m a year earlier
EBITDA reached € 91m from € 49m a year earlier - representing 87% year over year growth
EBITDA margins of 64.8% up from 51.2% a year earlier
Company has € 486m in current assets and € 183m in current liabilities
Only 6.5% of its sales come from North America, representing € 9.2m in Q3 2020 up from € 6.1m a year earlier (Evolution Gaming recently opened a studio in Pennsylvania)
---
BENCHMARK'S TAKE
The Good
Online gaming market is growing at a steady pace and driven my mobile adoption, faster internet speed and new gaming possibilities (mini-games, live casinos)
The live casinos space grew by 45% over the 2008 - 2016 period in Europe and Evolution Gaming is the absolute market leader in this space
Evolution Gaming is consolidating its position and diversifying its product portfolio by acquiring competitors
Evolution Gaming's financial track record is outstanding, growing at 48% while expanding its margins and being profitable
The Bad
Regulation needs to be watched (anti-trust and legal matters on gambling)
Market may undergo rapid change as new gaming formats emerge, weakening Evolution Gaming's position
---
Disclaimer
Please note that this article does not constitute investment advice in any form. This article is not a research report and is not intended to serve as the basis for any investment decision. All investments involve risk and the past performance of a security or financial product does not guarantee future returns. Investors have to conduct their own research before conducting any transaction. There is always the risk of losing parts or all of your money when you invest in securities or other financial products.